Sirena Home Cleaning System with Power Nozzle

Sirena Total Home Cleaning System Introduction
The water-based filtration system makes the Sirena S10NA a fundamentally superior total home cleaning system. Air passing through it is water-washed plus cleaned by a stringent HEPA 12 filter before returning fresh and clean into your environment. Water never clogs the way most bags, or filters in bagless vacuums, do. Being able to maintain a sustained high air flow rate is very important for effective cleaning of all surfaces in you home. Sirena cleans 100% of the time — at 100% efficiency.
The Sirena Water-Based and HEPA Combination
Those who have ever used a bag type vacuum know that the cleaning performance drops significantly for many vacuums as the bag fills with dirt. More recent years have seen a trend toward high performing white "fabric" bags which provide better filtration while maintaining much better air flows as they fill. However, these premium bags usually come with premium price tags that you pay year after year.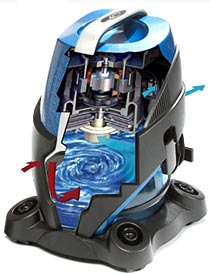 Most bagless vacuums utilize a filter immediately after the dirt container to stop most of the dirt. Many of these have a flat foam filter or filter band that clogs very quickly with dirt and dust, producing high resistance that virtually kills the air flow through them. We have seen many bagless vacuums brought to us with the complaint of very poor performance. Almost always it is caused by these crazy flat filters being thickly coated with dirt. Who really wants to put up with these dusty, poorly performing bagless vacuums?
Designed around a water-based system, the Sirena Total Home Cleaning System overcomes these frustrating bagged and bagless vacuum cleaner problems. By using water to wash the air thoroughly, bags and filters that clog quickly are eliminated completely. As the fast-moving dirty air enters the water basin quite a disturbance is produced, creating a heavy "rain storm" inside to wash most dirt and dust particles from the airflow. After being well washed, the air flows through the separator and suction producing fan then exits through the stringent HEPA 12 exhaust filter. The filtration of this final HEPA filter is very important for providing extremely clean air returning into your living environment. The Sirena vacuum cleaner is very well sealed internally so all air flow must pass through their washable HEPA exhaust filter. This is even more important to those who suffer with dust related allergies or asthma.
The Function of the Separator

Located at the bottom of the suction motor and positioned right above the water basin is the slotted separator. By spinning at an extremely high rate (19,527 RPM), it throws any water touching it outward, away from the air flowing through it so the water is not pulled into the suction producing fan. This action is required since the high volume of air flow is pulled through the water in the basin, creating a strong "rain shower" to thoroughly wash the air. A simple shut-off float like in wet/dry vacuums just would not do in this sophisticated vacuum design. The separator can be easily cleaned after a couple of uses by removing the brass retaining nut. A wrench and brush tool is stored neatly inside the Sirena housing.
Sirena's Unique Water Basin Design

Constructed of light blue transparent ABS Plastics, the special water basin incorporated into the Sirena design provides both function and ease of use. You can easily see the dirt or liquids you are collecting in the water as you clean so you know when it is time to refresh the water. A special baffle is located right behind the intake port to help keep larger debris away from the separator as well as to intensify the "rain storm" inside the basin. When emptying the water basin, this baffle also enables you to pour water out through the intake port and down a drain while holding back the pet hair and other large debris. The latter can then be dumped out through the main basin opening. Its extra large opening enables you to easily rinse and wipe its inside when finished cleaning.
Bypass Cooled Vacuum Motor
The powerful 1200 Watt motor produces plenty of suction for cleaning all heights of carpets when used with the Sirena power nozzle. Since the Sirena vacuum washes the air as it passes through it, it is possible that some moisture will be picked up. Like most commercial and wet/dry vacuums, the Sirena contains a bypass cooled motor. This design produces two completely separate air flows, one through the suction producing fan and another through the main part of the motor to cool it. This prevents any fine dust particles or moisture in the "cleaning" air flow from entering the motor to shorten its life span. It also keeps the motor from overheating if the hose or attachment accidentally gets clogged.
Included Power Nozzle to Deep Clean Your Carpets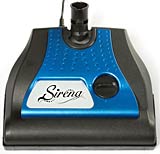 Having a high air flow rate is very important for effective cleaning of all surfaces in your home. When it comes to cleaning carpets, aggressive brushing of the fibers is also very important to separate them and work the embedded dirt and grit upward. Sirena, Inc. created an efficient power team by including their power nozzle with this system to enhance the Sirena's performance on carpets. Its motor driven brush roll with two rows of bristles, combined with the Sirena's consistently high air flow, will provide all the power you need to deep clean all your carpets. A carpet height adjustment on the top enables you to adjust it for all your carpets, including the newer, super-soft carpets. A special electric hose is included with this system to deliver the electrical power to the power nozzle's cord. The convenient "grip switch" in the hose handle automatically starts the power nozzle when you are ready and stops it when you want to pause.
Attachments for Total Home Cleaning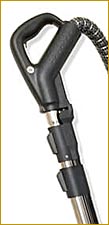 The Sirena Total Home Cleaning System includes their new direct connect power nozzle to effectively clean your carpets. An electric hose provides power to the power nozzle's motor. Its "machine end" has a plug incorporated into it that mates directly with the vacuum's receptical by simply plugging the hose into the vacuum. Making this upgraded Sirena even more convenient is their new direct connect electric telescopic wand. No more is there a need to manually plug a cord from the power nozzle into the hose. All electrical wiring is internal to the electric hose, electric telescopic wand and power nozzle. The power nozzle and the electric hose are for cleaning dry particles only.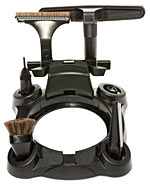 Also included is Sirena's Wet/Dry hose, curved stainless steel wand and standard stainless steel telescopic wand that can be used for both wet and dry pickup. You can connect both telescopic wands together to produce a long 60" wand to reach those higher areas. The 12" wide floor brush with its soft natural hair bristles is great for all you non-carpeted floors. Even the dusting brush and furniture brush have natural hair bristles so they will remain soft, not curling and matting like synthetic ones do. Rounding out the included attachments are the upholstery tool, crevice tool and inflation tool. Most of Sirena's attachments can be conveniently carried on its wheeled dolly.
Using Attachments for Wet Pickup

As mentioned above, the Sirena system includes a special hose and stainless steel wands for use when picking up wet or dry substances. By sliding the furniture brush off of the upholstery nozzle you can use this 5" wide nozzle when picking up liquids. The curved wand fits into the wet/dry hose end and the upholstery nozzle fits onto the wand. When finished with liquids, rinse the inside of the hose by picking up some water then dry it by attaching it to the blower port of the Sirena. The other end of the hose can be inserted into the vacuum's input port so anything blown out of the hose is captured by the vacuum's system. If this recirculating of the air flow was done with most household vacuums the motor would overheat. Since the Sirena has a bypass cooled motor this can be done safely.
All Four Wheels Swivel 360°
The Sirena vacuum cleaners are designed to track nicely behind you as you pull them by the hose. They are equipped with four wheels which turn a full 360° making them very easy to maneuver and very stable. Going over electrical cords, door thresholds and around furniture is a breeze. Since it can be moved in any direction, being able to easily push it out of your path when working near the machine is an added convenience.
Integrated Safety Features
Operational safety of a water based vacuum is important. Sirena, Inc. has incorporated several safety features into their vacuum cleaner. 1) Since the spinning separator located right above the water basin is easily accessible for cleaning, Sirena designed an interlock which prevents the motor from being turned on when the water basin is not in place. 2) As mentioned above, the separator keeps the water from being pulled up into the fan. If the vacuum is accidentally tipped onto it's side or even turned upside down while running the separator continues to do its job. 3) Like most commercial and wet/dry vacuums, the motor has a separate air flow to cool the it. If the hose or attachment is accidentally clogged, the motor will not overheat like most those in household vacuums do. Due to the increased motor speed and reduced power consumption, the motor will actually run cooler! 4) To protect even further from electrical shock, the Sirena even has a three wire cord with grounded plug.
Additional Sirena Features

You can attach a hose to the Sirena S10NA exhaust port for blowing to remove dust from hard to reach areas or to inflate balloons or air mattresses with the inflation tool. This feature is unavailable on most HEPA filtered vacuums.
As with any water-based vacuum cleaner, the vacuum should not be stored on the water basin so any moisture in the separator, fan and housings can dry thoroughly. A nice feature is the ability to snap the main vacuum, without the basin, into its wheeled dolly for storage, keeping most items together.
A very low motor speed is available which enables the Sirena to be run quietly in a room to clean, freshen and recirculate the air. When using this feature a special input port cover can be used to keep little hands from placing undesirable objects into the vacuum. Unless using the blowing feature, the exhaust port is covered so the exiting air is defused to help prevent the blowing of dust on the floor.
Adding Scents to Your Environment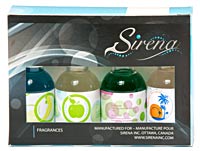 Included with your new Sinera system is a bottle of Ocean Breeze Air Freshener & Deodorizer designed to eliminate odors such as: Smoke, Fish, Onions, Pets. Also available is the Sirena Fragrance Pack that contains four bottles of concentrated fragrances like Fresh Apple, Eucalyptus and Tropical Breeze. Both types of scents can be added to the water in your Sirena to make the extremely clean exhausted air even more enjoyable.
Three-Year Limited Product Warranty
Sirena, Inc. provides three years of peace of mind, knowing that you will not have the expense of a repair which is covered by their long Three-Year Limited Warranty. It covers the cost of any repair parts needed during that period. Labor is covered by Sirena for only one year but Ristenbatt Vacuum extends the labor coverage for an additional two years on Sirena vacuums purchased from them. As with most vacuum warranties, normal wear items like brushes, belts, etc. are not covered by these warranties.
Outstanding Ten-Year Limited Motor Warranty
Amatek, Inc. created the unique motor that powers the Sirena S10NA Full Home Cleaning System. Many manufacturers look to Amatek to manufacture the motors for their vacuum cleaners. Amatek motors are known both for outstanding power and exceptional long life. Being able to create a motor that meets the special requirements of the Sirena's water-based system was quite a challenge for Amatek but they came through with flying colors. This motor, made by their Italian division, is so well designed and constructed that Sirena, Inc. can comfortably warranty it for a full ten-year period. This extra-long motor warranty provides seven additional years of peace of mind, knowing that you will not have the expense of a repair covered by it.
Product Availability
The Sirena S10NA Full Home Cleaning Systems are made in China by Sirena, Inc., a Canadian company, and sold in the U.S.A. primarily through their network of independently owned vacuum cleaner specialty stores like Ristenbatt Vacuum Cleaner Service. We also promote and sell various Sirena Accessories & Attachments and Sirena Filters & Supplies.
Please feel free to call toll free at 800-413-2778 or 717-665-5126 for more details and information on this and additional models. All of our salespeople are also skilled technicians who are very knowledgeable about vacuum cleaners, both inside and out. They will be happy to talk with you regarding your various vacuum cleaner needs, preferences and desires. We are a vacuum cleaner specialty store providing outstanding customer service to all who purchase from us.
We provide FREE Shipping of this model via UPS Ground to anywhere in the contiguous USA. You can Order Online with our secure checkout or call us at 800-413-2778 or 717-665-5126 to place a Phone Order. Orders can be charged to any major credit card issued in the USA. We ship only within the United States of America.
---
| | |
| --- | --- |
| Key Features | Major Benefits |
| Complete Home Cleaning System | This is a complete power team including their power nozzle plus various attachments for efficient cleaning of all your home's surfaces. |
| Water-based and HEPA System | Maintains more consistent air flow since water can't clog like bags or filters in bagless vacuums often do. By including a HEPA exhaust filter the Sirena cleans the air much better than water alone can. |
| Easy-to-clean Water Basin | The extra large opening in the basin enables you to reach into it easier to clean and wipe after use. |
| Motorized Power Nozzle | It effectively cleans all carpets by providing aggressive brushing without being harsh. The height adjustment keeps it from burying itself in the newer super-soft carpets. |
| Integrated Safety Features | Safety features like the water basin interlock, effective separator, bypass cooled motor and grounded power cord help ensure a longer operating life for both the Sirena and you. |
| Easily Scent the Recirculated Air | The included bottle of Ocean Breeze Air Freshener & Deodorizer plus a special bottled fragrance set enable you to distribute a pleasant scent into your living environment's air. |
| Three-Year Limited Warranty | Sirena's 3-year warranty provides three years of peace of mind, knowing that you will not have the expense of a repair which is covered by this warranty. |
| Ten-Year Limited Motor Warranty | Sirena provides seven additional years of peace of mind, knowing that you will not have the expense of a suction motor repair which is covered by their 10-Year Limited Warranty. This also reflects their confidence in this machine's excellent quality. |