Miele HX1 Cat & Dog Cordless Stick Vacuum
Miele HX1 Cat and Dog Stick Vacuum Cleaner Introduction

Miele has been designing and manufacturing products for the home since 1899. They produced their first vacuum cleaner in 1927. Their products are world renowned for their power, durability and performance. The summer of 2020 saw the introduction of Miele's new cordless and bagless Triflex Stick vacuums in which they applied a number of innovative designs that have been proven over the years plus new technologies to produce another line of exceptional vacuums for which they are so well known. As with all Miele products, all its advanced technology and incredible performance are harnessed within a truly beautiful work of art.
While continuing the strong Miele tradition of quality, design, beauty and outstanding performance, this Cat and Dog version of the Miele HX1 Triflex Stick vacuums, with its unique cyclonic bagless design, cordless operation and Miele Vortex Motor™ takes Miele's beauty and technology to an even higher level. This HX1 Stick vacuum is made in Germany and repairable, unlike most competing stick vacuums.
Versatile Three-in-One Innovation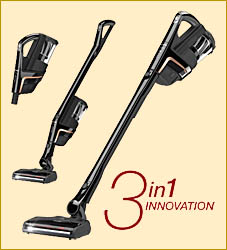 Why settle for what others are doing? Miele's slogan is "Immer Besser" (Forever Better) so their engineers envisioned and developed a much better design to make Miele's new HX1 Stick vacuums more versatile and easier to use. With the long run time that the Varta® battery provides, user arm fatigue is an important factor. By enabling the Miele HX1 Cat and Dog Stick to be configured with the PowerUnit positioned close to the floor, Miele reduced the weight on the handle to less than 2 pounds. When you need to reach far under or around furniture and beds, it can easily be rearranged with the wand between the PowerUnit and floor nozzle. Remove the wand, attach a dusting brush, upholstery tool or crevice tool and the PowerUnit goes "solo" for vacuuming your furniture and stairs. Another great feature for reducing user fatigue is the slide power switch, eliminating the need to constantly press a power button, sometimes at an uncomfortable angle.
Miele HX1 Stick Stands by Itself in a Vertical Position
If you are vacuuming with the PowerUnit fitted at the bottom of the vacuum cleaner, you can easily interrupt its operation while the vacuum is switched on. Swing the vacuum cleaner forwards until the Electrobrush connector audibly clicks into place. The vacuum cleaner stays securely upright, the Electrobrush switches itself off and the battery is conserved. When you unlock the connector on the Electrobrush, the Electrobrush will switch on again. (For safety reasons, this function can only be used when the PowerUnit is configured near the bottom of the vacuum cleaner)
High Performance HX1 PowerUnit
Weighing in at 4.5 pounds with the handle as shown, this PowerUnit is ready and able to provide the performance you want in a cordless, bagless stick vacuum. Amazingly, it is very comfortable to use, weighing less than 2 pounds in your hand when configured as a stick vacuum with the PowerUnit positioned close to the floor.
Miele engineers incorporated various proven technologies into the HX1 PowerUnit to produce its high performance and durability. Starting with the efficient Triforce motor design that Miele vacuums have proven reliable and powerful for years, they designed a new 25.2 volt DC version with permanent magnets to power their HX1 Stick vacuums. Taking the same hybrid debris separation technology that Miele has used successfully in their CX1 Blizzard bagless canister vacuums, they adapted it to fit the smaller size of the PowerUnit with over 1 pint capacity. As with most Miele vacuums, the PowerUnit is designed to be completely sealed, ensuring that all air flow passes through all filters to be cleaned by them. Shown on the PowerUnit pictured here is the removable handle with switch. Taking a lead from their earlier H1 Swing Upright, Miele designed the HX1 Stick vacuums uniquely so they can be configured with the PowerUnit positioned high or much lower near the floor nozzle for more comfortable cleaning. As pictured, it can be used "solo" with the included dusting brush, upholstery tool or crevice tool.
Innovative Cyclonic Chamber and Dirt Bin
The Miele HX1 Cat and Dog Stick vacuum cleaner incorporates a unique cyclonic chamber with dirt collection bin plus a large area fanfold Fine Dust Filter and a Hygiene Lifetime Exhaust Filter to provide the high performance for which Miele is so well known. Air carrying the dirt enters the cyclonic chamber on an angle, creating a spinning action which moves the dirt and dust outward and into the collection bin. Air is extracted from the center of the cyclonic chamber through a cylindrical filter screen. A special fine dust chamber inside the cyclonic chamber collects the smaller particles separately from the main dirt bin. The whole dirt collection bin and cyclonic chamber can be cleaned under running water if desired.
Large Area Fine Dust Filter
After the air passes through the cyclonic chamber and its fine screen, it reaches the fanfold Fine Dust Filter and Motor Protection Filter. Over three inches high and 2.75" in diameter, this fanfold filter contains 125 square inches of special filter media which enables the air to pass through easily while trapping virtually all the very fine dust. The larger the filter media surface is, the lower the
resistance
to air flow so the greater the
air flow
for picking up dust and dirt. One of Miele's goals with a bagless vacuum is to minimize contact with floating fine dust and dirt when removing collected debris. Therefore, they separate the larger particles from most of the fine dust to reduce a dust plume when emptying the dirt collection bin. This technology has successfully been used in Miele CX1 Blizzard bagless canister vacuums for a number of years.
HEPA Lifetime Exhaust Filter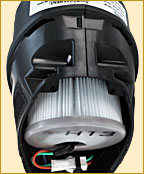 Putting the finishing touches on the air flow, cleaning it even more before it exits the PowerUnit, is Miele's HEPA 13 Lifetime Exhaust Filter. It also is a large area filter in a fanfold configuration to permit high air flow. Having an exhaust filter that meets the stringent HEPA 13 specification is especially important for those with dust related allergies or asthma. By positioning it after the motor it also traps any carbon particles from the motor brushes as they gradually wear over the vacuum's lifespan. By combining the Cyclonic Chamber, Fine Dust Filter, Motor Protection Filter and HEPA 13 Lifetime Exhaust Filter, this Miele HX1 Cat and Dog Stick vacuum provides 99.99% filtration for the airflow that passes through it after picking up the dust and debris. Miele vacuums not only clean the surfaces in your home but also the air that you breathe.
Agile 11" Wide XXL Electrobrush with BrilliantLight
Incorporating a motor driven revolving brush roll, the Miele SEB 435 Electrobrush performs well on both carpeted and non-carpeted floors. A non-slip cog belt provides positive power transfer from the brush motor to the brush roll. This special type of belt is reinforced so cannot stretch nor slip so it provides consistent brushing action month after month. The brush roll can be easily removed from the nozzle, making removal of wrapped hair and strings a breeze. If the brush roll is stopped or slowed by a large object caught in the nozzle an electronic circuit breaker will shut it down immediately, protecting both the brush motor and belt. Simply turn the vacuum off, remove the object, and turn on again to restore operation.
This advances Electrobrush senses the floor surfaces being cleaned and adjusts the brush speed for optimum cleaning on the selected power level. On non-carpeted floors its brush always runs at a fairly low speed to aid in picking up grit and heavier dirt. When on carpets, its speed is determined by the power level setting with all three brush speeds being sigificantly faster than on non-carpeted floors. The wand connector has a 2-way swivel which enables the Electrobrush to be pivoted (steered) as the unit is twisted side to side. The 8.75" wide LED BrilliantLight illuminates the floor area in front of the nozzle.
Compact Electrobrush for Furniture and Stairs
Included with this Miele HX1 Cat and Dog Stick vacuum is their SEB 23 Compact Electrobrush which greatly enhances its ability to remove pet hair and other debris from your furniture and carpeted stairs. It typically is attached directly to the PowerUnit although it can also attach to the electric wand. Like the floor nozzle, the revolving brush roll is motor driven using a cog type belt for positive power transfer. The belt is located near the center, enabling closer brushing on both sides of the 7.25" wide nozzle. Being manufactured in Germany, like the main HX1 Stick vacuum, it is a very durable unit that should provide many years of outstanding cleaning performance in your home.
Efficient Miele Vortex Motor™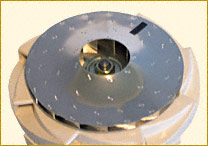 The Miele Vortex suction motor produces plenty of suction and air flow to enable this cordless HX1 Cat and Dog vacuum to provide the cleaning performance of a full-size Miele canister vacuum. While the Electrobrush varies with all three power levels, this Vortex motor has two speeds, providing strong 30" of suction (Water lift) on the two higher power levels and 15" of suction on the lowest level per our guage. This high performance motor has fan parts that are aerodynamically designed with no parallel surfaces and eight long fan scoops compared to the typical six shorter ones. These scoops are quite wide near the hub of the fan and become more narrow toward the outer edge similar to that of a jet engine compressor. This single stage "compressor design" optimizes the air flow and increases the overall motor efficiency. Featuring lifetime lubricated ball bearings, well balanced motor parts and enhanced motor suspension, the Miele HX1 Triflex Cat and Dog Stick vacuum will perform quietly for many years.
Varta® Removable Li-ion Battery
To enable the outstanding power and performance for this HX1 Triflex Cat and Dog Stick vacuum, Miele went to Varta®, the company renowned for high quality batteries manufactured in Germany. Their quality and expertise have been appreciated all over the world for more than 130 years. They manufacture the high performing batteries used in some cars that shut down at red lights and restart again to drive on.

This durable rechargeable 2500mAh (2.5 amp hours) lithium-ion battery provides sufficient power for run times of 60 minutes on low "Solo", 44 minutes on low with running Electrobrush, 34 minutes on medium with running Electrobrush and 17 minutes on high with running Electrobrush. Rated at 25.2 Volts, it provides the punch needed for Miele's powerful Vortex motor to supply the suction and air flow required for this vacuum's high performance. You can double the run time by purchasing an optional Miele HX-LA Lithium-Ion Battery and Miele HX-LS Battery Charging Cradle. Typical battery recharging time is four hours.
Wall Mounted Charging Unit & Tool Caddy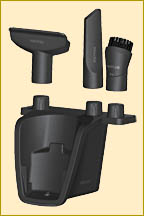 Included with the Miele HX1 Cat and Dog Stick vacuum is a battery charger and wall mount which conveniently charges the vacuum's li-ion battery when parked there. It also doubles as an attachment holder for the Dusting Brush, 7" Upholstery Tool and 6" Crevice Tool. If you don't want to mount this on a wall, you can charge the vacuum mounted battery or a separate battery by inserting the charger plug directly into the battery. Three LEDs on the front of the PowerUnit indicate the charging status.
The three small tools can be attached directly to the PowerUnit to use it "Solo" or to the end of the wand to extend your reach. Consider purchasing our very agile Black Stretch Hose to fit Miele Triflex which makes using the small attachments much easier. If you need additional reach for high ceilings or ledges, we have light weight 35mm Extension Wands available as well. The dusting brush has a swivel to provide the right angle to clean the top of ledges as well as door and window frames.
2-Year Vacuum & Battery Warranty
Miele provides two years of peace of mind, knowing that you will not have the expense of a vacuum repair or battery replacement that is covered by their 2-Year Limited Warranty. Additional peace of mind comes from knowing that you own a Miele vacuum which is designed and tested to last for many years without needing to be repaired. A nice aspect of the Miele HX1 Triflex Stick vacuums is that they are repairable if the need ever arises.
Product Availability
The Miele HX1 Triflex Cat and Dog Stick vacuum cleaners are made in Germany and sold in the U.S.A. primarily through their network of independently owned vacuum cleaner specialty stores like Ristenbatt Vacuum Cleaner Service.
We also promote and sell additional models of
Miele Stick Vacuum Cleaners
, various
Miele Accessories & Attachments
and
Genuine Miele Dustbags, Filters & Supplies
.
Please feel free to call toll free at 800-413-2778 or 717-665-5126 for more details and information on this and additional models. All of our salespeople are also skilled technicians who are very knowledgeable about vacuum cleaners, both inside and out. They will be happy to talk with you regarding your various vacuum cleaner needs, preferences and desires. We are a vacuum cleaner specialty store providing outstanding customer service to all who purchase from us.
We provide FREE Shipping of this model via UPS Ground to anywhere in the contiguous USA. You can Order Online with our secure checkout or call us at 800-413-2778 or 717-665-5126 to place a Phone Order. Orders can be charged to any major credit card issued in the USA. We ship only within the United States of America.
---
| | |
| --- | --- |
| Key Features | Major Benefits |
| Versatile 3-in-1 Design | Use this vacuum "solo" with its three small attachments for above the floor cleaning then easily reconfigure it for floors by adding the wand and floor nozzle. Position the PowerUnit low for more comfortable cleaning or high to reach better under beds and other furniture. |
| Vacuum Stands Vertically | No longer is there a need to prop a stick vacuum against something when pausing during cleaning. This HX1 Cat and Dog Stick vacuum will stand by itself when the PowerUnit is in the lower position. |
| Miele Vortex Motor™ | Delivers high air flow rates for the cleaning performance of a full-size Miele canister vacuum. |
| Hybrid HEPA Filtration System | A Cyclonic Chamber with Vortex Technology teamed with a Fine Dust Filter and HEPA 13 Lifetime Exhaust Filter provide 99.99% filtration. |
| Completely Sealed System | Ensures that all air flow through the system reaches all filters to be cleaned by them. |
| Extra Wide XXL Electrobrush | Cover floor area faster with this extra wide 11" power nozzle. The wide LED BrilliantLight illuminates the floor area in front of the nozzle. This Electrobrush automatically senses the floor surfaces being cleaned and adjusts the brush speed for optimum cleaning and run time. |
| Compact Electrobrush | This Miele Cat & Dog Triflex Stick vacuum includes their SEB 23 Compact Electrobrush which provides aggressive brushing action with its motor driven revolving brush roll. It greatly enhances the vacuum's ability to remove pet hair from upholstered furniture and carpeted stairs. |
| Varta® Removable Li-ion Battery | This durable rechargeable battery provides sufficient power for 60 minutes of run time. Varta is well known for manufacturing the durable batteries used in cars that shut down at red lights and restart again to drive on. |
| Charging Base with Attachment Storage | Between cleaning tasks the Miele HX1 Cat and Dog Stick Vacuum will charge hanging on the wall mounted base. This base conveniently holds the three small attachments as well. |