Miele Dynamic U1 Cat & Dog Upright Vacuum Cleaner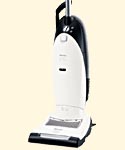 Optional Accessories and Supplies for the
Miele Dynamic U1 Cat & Dog Upright Vacuum Cleaner
Attachments for Special Tasks
Universal Dusting Brush w/Swivel #SUB 20
This new Miele Dusting Brush with Swivel #SUB 20 is great for cleaning all hard surfaces including ledges and cabinet tops. Its long sleek design enables it to cover larger areas with a sideways sweeping motion. The tapered area with bristles is 2" wide and 6" long with 7/8" long, soft bristles. The main body is flexible vinyl so it is like having a bumper all over it to protect your furniture.
Code: SUB 20 &nbsp &nbsp Mfg. Code: SUB 20
Miele 22" Flexible Crevice Tool #SFD 20
This extra-long Genuine Miele 22" Flexible Crevice Tool #SFD 20 is designed for use on Miele hoses and wands where the attachments fit over them. The unique construction consists of a long soft vinyl center section with rigid high impact ends, making it quite durable yet flexible. This crevice tool is great for reaching under refrigerators, behind old fashioned radiators and other hard to reach areas. Purchase Miele's Radiator Brush for more efficient cleaning of radiators, etc.
Code: SFD 20 &nbsp &nbsp Mfg. Code: SFD 20
Generic European 35mm Plastic Extension Wand
Easily extend the reach of your Miele attachments by 18" for those extra high ceilings, fans, etc. More than one wand can be used to extend your reach even farther. This lightweight 19" wand is constructed of high impact ABS Plastics, making it very light weight and durable. It is not made by Miele but is designed to friction fit perfectly onto the Miele hoses and wands as well as their smaller attachments. Add this light weight plastic wand when purchasing the Miele vacuum shown above and receive free shipping on it as well.
Code: 32-1940-99
9' Extension Hose to fit Miele
Extend the reach of your Miele vacuum cleaner by 9' with this extension hose. Its great for stairs and reaching into areas where your vacuum can't go. The one end mates with your existing hose and the other end mates with your Miele attachments.

Since this hose has a fixed length, using the Handheld Turbobrush is much easier because the vacuum's suction doesn't pull it back toward the vacuum like when the attached stretch hose is used.

While not made by Miele, it is designed to work well with all Miele vacuums. The hose handle has an alignment pin as well as indented rectangle which mates with the latches on Miele wands.
Code: 9FT-MIELE-EXT
Genuine Miele Supplies
Genuine Miele AirClean Bags - Type U
Genuine Miele Type U 3D AirClean Bags & Filters to keep your Miele S7 or U1 series upright performing well with improved air flow. The box contains 4 White AirClean FilterBags™ with Green Mounting Collar, 1 Electrostatic Pre-motor Filter and 1 Super Air Clean exhaust filter. These Miele 3D AirClean bags are an improved version of the former Miele bags #07805130. Include additional dustbags when ordering the Miele S7 upright shown above and receive free shipping on them as well.
Quantity Savings
Quantity
Price ea.
Save

$2.10

- Buy 3 for

$57.75

3-4 Items
$

19.25

Save

$5.00

- Buy 5 for

$94.75

5+ Items
$

18.95
Code: 07282050 &nbsp &nbsp Mfg. Code: 10123230
Miele SF-AA 30 Active AirClean Filter for S300 to S600, S2, S7 & C1 Ser.
This special SF-AA 30 exhaust filter combines a thick layer of Activated Charcoal and two electrostatic filters to provide heavy duty trapping of unpleasant odors. This is recommended of pet owners who desire better odor control. The filtration systems in Miele vacuums, when equipped with this exhaust filter, will provide outstanding filtration plus excellant odor control. It only needs to be replaced approximately once a year. A special "Timestrip" provides a visual indication of when the filter should be replaced. This filter is also known as #09616080.

The vacuum shown above has a completely sealed system and is equipped with this exhaust filter to provide outstanding filtration plus excellant odor control. As an alternate, a HEPA Filter can be used. You can not use both filters at the same time.
Code: AA-30 &nbsp &nbsp Mfg. Code: SF-AA 30