Miele Classic C1 HomeCare Vacuum with SEB 228 Powerbrush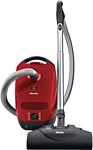 Optional Accessories and Supplies for the
Miele Classic C1 HomeCare Vacuum with SEB 228 Powerbrush
Attachments for Special Tasks
Miele Parquet Twister Floor Brush #SBB 300-3
This genuine Miele Parquet Twister floor brush is specifically designed for cleaning Parquet floors although it will also work well on all bare floors. It is 12" wide having brush strips around its edges. Notches in the front brush strip allow dirt to easily enter the nozzle. This attachment has a long tab on its elbow to mate with the parking slots on the Miele S2, S4, S5, S6, S8, C1, C2 and C3 Series canister vacuums. Add this floor brush to the vacuum shown above for more gentle brushing action on your good non-carpeted floors.
Code: SBB 300-3 &nbsp &nbsp Mfg. Code: SBB 300-3
Miele STB 101 Air Driven Hand Turbobrush
The brushing action by the turbine driven revolving brush roll provides deeper cleaning of your upholstered furniture and carpeted stairs. This hand attachment is a great addition for the Miele canister above. It also works well for cleaning cars, trucks and recreational vehicles.
Code: STB 101 &nbsp &nbsp Mfg. Code: STB 101
Miele Stainless Steel Wand with Latch #09266001
This 20" Miele Stainless Steel Wand will look and work well for years to come even in high humitity areas. The large latch release pad near its top makes it easy to remove from the hose or wand while the square hole near its bottom permits additional wands or floor nozzles to latch firmly in place. This wand works well for extending your reach of a Miele U1 or S7 upright vacuum when attached to your existing wand. This wand is slightly over 20" long, making it great as an extension wand for the Miele vacuum shown above to reach higher areas.
Code: 09266001
Generic European 35mm Plastic Extension Wand
Easily extend the reach of your Miele attachments by 18" for those extra high ceilings, fans, etc. More than one wand can be used to extend your reach even farther. This lightweight 19" wand is constructed of high impact ABS Plastics, making it very light weight and durable. It is not made by Miele but is designed to friction fit perfectly onto the Miele hoses and wands as well as their smaller attachments.
Code: 32-1940-99
Plastic European to 1 1/4" Tool Adapter
This plastic 4" long attachment adapter fits on European 35mm size hoses and wands to enable the use of standard USA 1 1/4" attachments. These include attachments on Shop-Vac, Eureka, many Electrolux models and some Hoover uprights plus various other USA brands. You will find a number of attachments for use with this adapter described on our Attachments to fit American Standard Size Vacuums page.
Code: 34663
Genuine Miele Supplies
Genuine Miele AirClean Bags Type G, N
Genuine Miele 3D AirClean Bags & Filters Type GN to keep your Miele performing well with improved air flow. The box contains 4 White AirClean FilterBags™ with Blue Mounting Collar, 1 Electrostatic Pre-motor Filter and 1 Super Air Clean exhaust filter. The bags are for use in Miele S400, S600, S2000, S5000, S8000, Classic C1, Complete C2 and C3 series canisters and power teams. These Miele 3D AirClean bags are an improved version of the former Miele bags #05588941 and #09338530.
Quantity Savings
Quantity
Price ea.
Save

$2.10

- Buy 3 for

$57.75

3-4 Items
$

19.25

Save

$5.00

- Buy 5 for

$94.75

5+ Items
$

18.95
Code: 07189520 &nbsp &nbsp Mfg. Code: 10123210
Miele SF-HA30 HEPA AirClean Filter for S300 to S600, S2, S7 & C1 Series
This Genuine Miele HEPA AirClean Exhaust Filter #SF-HA30 has been proven to retain 99.99+% of dust particles. By meeting the very stringent "HEPA 13" specification, it is ideal for allergy and asthma sufferers. It only needs to be replaced approximately once a year. A special "Timestrip" provides a visual indication of when the filter should be replaced. This filter is a direct replacement for the Miele SF-AH30 HEPA exhaust filter. This SF-HA30 filter is also known as #09616270. The Miele HomeCare vacuum shown above includes this HEPA AirClean Filter.
Code: HA-30 &nbsp &nbsp Mfg. Code: SF-HA 30
Miele SF-AA 30 Active AirClean Filter for S300 to S600, S2, S7 & C1 Ser.
This special SF-AA 30 exhaust filter combines a thick layer of Activated Charcoal and two electrostatic filters to provide heavy duty trapping of unpleasant odors. This is recommended of pet owners who desire better odor control. The filtration systems in Miele vacuums, when equipped with this exhaust filter, will provide outstanding filtration plus excellant odor control. It only needs to be replaced approximately once a year. A special "Timestrip" provides a visual indication of when the filter should be replaced. This filter is also known as #09616080.

The Miele S2 Series vacuum shown above can be equipped with this optional Active AirClean Filter for reduced odor emissions. This filter fits in the same place as the HEPA AirClean Filter shown above. You can not use both filters at the same time.
Code: AA-30 &nbsp &nbsp Mfg. Code: SF-AA 30
Super Air Clean Filters - All Canisters plus S7 & U1 Uprights (3)
Known as SF-SAC20 and SF-SAC 30, this package contains three electrostatic Super Air Clean Filters. These are designed for those desiring outstanding filtration but who do not have dust related sensitivities which require the level of filtration that meets the stringent HEPA specification.

When purchasing a box of Miele paper bags, you will also received one of these filters plus the electrostatic pre-motor filter packaged with them. The vacuum shown above includes a frame for using these filters instead of a HEPA filter when a super high level of filtration is not needed.
Code: 03944711