SEBO G4 Vacuum Cleaner Introduction
The SEBO Essential G4 S-Class upright is designed for customers who desire a long-lasting trouble-free upright that will provide very high filtration and a cleaner home environment. It boasts many convenient features including an easy-to-change paper bag, manual height adjustment with electronic indicator, removable brush roll and on-board attachments that are always ready to use. Performance is enhanced by a powerful 2-fan motor, non-slip cog belts and efficient high filtration system. This is a truly commercial quality upright which will provide many years of outstanding performance in your home.
Multi-Layer System Provides S-Class Net Filtration
Having a vacuum cleaner with HEPA filter doesn't guarantee that the exhausted air will actually meet that stringent standard. Quite a few with HEPA exhaust filters are not completely sealed so they can have significant dust leakage through seams in their cases, greatly reducing the beneficial effects of their HEPA filters. Dust leakage can be a major problem for those with dust related allergies or asthma.
The SEBO Essential G4 upright has multiple layers of filtration media in a completely sealed system. This very efficient filtration system consists of a large three layer paper bag, large area electrostatic Micro-Hygiene-Filter and an extremely fine foam exhaust filter. While no specific filter is called a HEPA filter, the net filtration of the complete vacuum meets the stringent S-Class (HEPA) specification with an efficiency greater than 99.97% at 0.3 µm (micrometers - formerly microns). For particles 1 µm and larger, the filtration rate is 100%. Net filtration is derived from testing the complete vacuum cleaner in operation versus the filter media alone. This is important for your home because it is the only rating system that measures total equipment filtration efficiency.
S-Class is a designation used by Europeans to indicate that a filter or system meets stringent standards like the British Standard 5415 and German norm: DIN 2418B Ti-E EU 13 for filtration performance. It is essentially the same as the HEPA specification in the USA.
Low Operating Costs
Most HEPA filters need to be replaced every six or twelve months at an operating cost of about $1.00 per week. SEBO reduces your operating costs by incorporating a high efficiency paper bag and lower cost filters to create a very efficient S-Class filtration system without using an expensive HEPA filter. SEBO recommends replacing the tubular Micro-Hygiene-Filter and exhaust filter whenever you use twenty paper bags. You can order their Box of 10 Paper Bags ($34.99), Electrostatic Micro-Hygiene-Filter ($29.99) and exhaust filter ($14.99) from us as well.
Convenient On-Board Attachments

The SEBO Essential G4 upright carries its Dusting Brush, Upholstery Nozzle and Crevice Tool conveniently on-board with the hose and wand always attached and ready to use. A unique wand on this SEBO upright stores most of the stretch hose inside it. This dramatically shortens the air flow path to provide better air flow when cleaning carpets. The wand also has a special handle so it is very easy to remove from the upright to catch those hard to reach corners. Alternately, you can simply pull the hose out of the wand and use the attachments directly on the hose end.
Optional Attachments
Another way to purchase optional attachments is the Attachment Kit with Parquet Floor Brush for $99.99. This includes a 9.2' extension hose which connects to the attached hose to provide a total attachment reach of at least 14.5'. An Extension Wand and Parquet Floor Brush are also included in this kit to make cleaning non-carpeted floors a breeze. The extension hose also works very nicely for cleaning your stairs while keeping the upright safely at the bottom. For carpeted stairs and upholstered furniture, consider the optional SEBO Hand Turbine Upholstery Nozzle for $64.99.
Easy to Change Paper Bags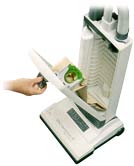 Are you tired of struggling to replace your vacuum's paper bags? With the SEBO Essential G4, changing them is a breeze. Struggle no longer trying to fit a cardboard with hole over a tube hidden by the paper bag while trying not to tear the bag. With SEBO, you don't even need to bend over. Simply unlatch and remove the bag chamber lid from the vacuum and the paper bag comes along with it. Place a green dust seal disk into the hole in the green plastic bag top and slip it out of the holder. Just as easily, slide a new bag into the holder and replace the lid on the vacuum. That's all there is to it. It couldn't be easier and more dust free!
Durable and Efficient Clean-Air Design
A key feature that the SEBO Essential G4 uprights incorporate is the clean-air system design. The air flow which picked up the dirt is cleaned by the three layer paper bag and electrostatic Micro-Hygiene-Filter before it passes through the fans of the suction motor. This design eliminates fan breakage problems which can be caused when objects are picked up by a dirty-air system. Also, it typically produces significantly more suction, especially when the hose and attachments are used. For more about these two designs, see our article on Fan or Impeller Types & Performance.
Two-Stage 12 Amp. Suction Motor
A quiet, powerful two-stage suction motor provides exceptional air flow for cleaning all types of floors and for above-the-floor cleaning with the on-board attachments. The use of two fans pulling together reduces the sound level and maintenance costs by allowing the motor to operate at a lower speed. This motor, with its all metal construction and ball bearings, is rated for 800 hours of use so it should give dependable service for more than 10 years. This very quiet vacuum is rated at a sound level of 66dB A. The SEBO Essential G4 upright is rated at 92.5" of Water Lift (215mbar) and 103.8 CFM of air flow while drawing 12 Amps. from your home's electrical system. The maximum amperage permitted for UL Approval of an upright vacuum cleaner is 12.0 Amps. If you see a rating higher than that, it probably is an Efficiency Rating.
Durable and Effective Brush Roll
Effectiveness is accomplished by arranging the bristles in a 360 degree convergent format on the brush roll. The steep spiral of the bristles, combined with its high speed, efficiently moves the dirt toward the dirt intake. The long wearing bristles are designed to withstand even hard commercial use.

You can very easily and quickly removed the brush roll to replace it or simply remove wrapped hair and thread from it. Simply press the release button on top of the nozzle to remove the nozzle end plate. Then twist the brush roll slightly and slide it out through that opening. Replacing it is just as easy. This is a very nice feature for those dealing with long human or pet hair which wraps on any revolving brush roll. There even are raised thread guard rings at the roll's ends which prevent hair and thread from getting into the bearings by flipping over the ends of the roll.
Manual Height Adjustment with Indicator Light
The SEBO Essential G4 upright electronically monitors its system's performance including the brush roll speed. This same circuit indicates when the nozzle height is adjusted properly for the vacuum's best performance. A "Check Brush" indicator on the nozzle will light if the manual height adjustment is not set properly. Should something become jammed in the brush roll, stopping it or slowing it substantially, this same indicator light will inform you of the problem.
Also available are the more deluxe SEBO X4 Automatic and SEBO X5 Automatic uprights which have automatic active height adjustments. Each of these use a similar electronic system coupled with an electric servo motor to monitor and dynamically adjust the nozzle height to its optimum setting while you clean.
Cog Type Drive Belts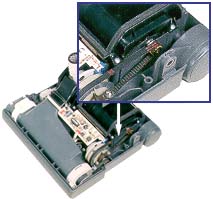 The cog type drive belts provide positive power transfer from the motor to the revolving brush roll. This is accomplished by incorporating cogs (gear like ridges) into the belt's inner surface which mesh with cogs on the pulleys of the motor and brush roll. The belts are reinforced to prevent stretching and to resist breakage over their entire life span. These non-slip cog belts keep the brush roll revolving at its normal speed year after year for maximum effectiveness. The two cog belts on this SEBO are so well designed and protected that SEBO warranties them for three years although they should last much longer. Note: SEBO warranties these same belts on their X1, X4 and X5 Automatic uprights for the life of the vacuum.
Fast Hybrid Overload Protection
Since the SEBO Essential G4 Upright uses its powerful suction motor to also drive the brush roll with non-slip cog type belts, a special electronic/mechanical hybrid design had to be developed to prevent damage to the motor and belts should the brush roll be stopped instantly.
SEBO's unique mechanical system incorporates a spring loaded sensor pulley to absorb some of the torque plus a friction clutch which can slip to protect everything should you accidentally catch a carpet edge, bed spread, sock, etc. in the nozzle. This allows the brush roll to stop instantly while the motor keeps running without damaging it nor the belts. In normal use, this special clutch does not slip so the SEBO Essential G4 will have positive power transfer from the motor to the revolving brush roll year after year.
The special sensor pulley contains magnets which induce current into a pickup coil to continually monitor the brush speed electronically. This enables the same circuits to indicate the optimum nozzle height to match your floor covering and to provide very fast overload protection for the vacuum. If a large object inadvertently enters the cleaning nozzle and drastically slows or stops the brush roll, the electronic system turns the motor off within a few seconds to prevent internal damage. Unplugging the unit while dislodging the object automatically resets the electronic overload protection circuit.
Low Flat-to-the-Floor Profile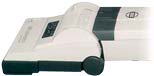 Have you noticed how high many uprights with on-board attachments are? As Americans, we tend to think that bigger and bulkier are better but the Europeans seem to know better. The SEBO G-Series and X-Series uprights are excellent examples of European uprights that combine low profiles with outstanding performance and durability. The upholstery nozzle and crevice tool are even carried in recessed areas on the back to the vacuum so it can go flat to the floor as shown above. This is especially nice for reaching far under your beds and furniture with a required clearance of only 5.5"
SEBO takes convenience one step further, enabling you to select if you want the handle to stop when it is half way down. Most uprights permanently have this catch so the nozzle can be lifted to go across a carpet edge or threshold but this can be a nuisance when frequently going under low furniture. A simple slide near the pivot point enables you to select whether this handle catch is active or not.
Outstanding SEBO 5-Year Warranty.

When used for private household purposes, if a SEBO vacuum cleaner fails due to a defect in materials or workmanship (excluding wear parts) within five years from the date of purchase, SEBO will guarantee its repair or replacement, at SEBO's discretion, at no cost to the customer for either labor or non-wear parts. See details.
Outstanding SEBO 7-Year Motor Warranty
SEBO is so confident in the durability of their motors that they provide a Seven Year Limited Motor Warranty with all SEBO vacuums purchased for private household use. This warranty covers both the suction motor as well as the brush motor in the ET-1 power nozzle. This provides two additional years of peace of mind, knowing that you will not have the expense of a repair which is covered by this motor warranty.
Ristenbatt Vacuum is a factory-authorized source for SEBO's FREE 10-year Extended Vacuum Warranty. See details.
Product Availability
The SEBO Essential G4 S-Class uprights are made in Germany and sold in the U.S.A. primarily through their network of independently owned vacuum cleaner specialty stores like Ristenbatt Vacuum Cleaner Service. We also promote and sell additional models of SEBO Upright Vacuums, various SEBO Accessories & Attachments and Genuine SEBO Dustbags, Filters & Supplies.
Please feel free to call toll free at 800-413-2778 or 717-665-5126 for more details and information on this and additional models. All of our salespeople are also skilled technicians who are very knowledgeable about vacuum cleaners, both inside and out. They will be happy to talk with you regarding your various vacuum cleaner needs, preferences and desires. We are a vacuum cleaner specialty store providing outstanding customer service to all who purchase from us.
We provide FREE Shipping of this model via UPS Ground to anywhere in the contiguous USA. You can Order Online with our secure checkout or call us at 800-413-2778 or 717-665-5126 to place a Phone Order. Orders can be charged to any major credit card issued in the USA. We ship only within the United States of America.
---
| | |
| --- | --- |
| Key Features | Major Benefits |
| S-Class Filtration System | The S-Class system retains over 99.97% of pollens, household dust, dust mites and other allergens as small as 0.3 µm in size. For particles 1 µm and larger, the filtration rate is 100%. |
| Low Operating Costs | Obtain efficient S-Class filtration without the need to replace expensive HEPA filters every six to twelve months. |
| Strong Attachment Suction | Efficiently reach into those hard to clean areas without breaking your work pace. Convenient for cleaning all types of furniture, window frames, baseboards, etc. |
| Clean-Air Design | Automatically protects the motor from damage by items picked up. Also produces significantly more suction when using the attachments. |
| Powerful 2-Fan, 12.0 Amp Motor | Produces higher suction and higher air flow at a reduced noise level. Produces over 30% more suction for the same amperage rating. This is the maximum permitted amperage for UL Approval of an upright vacuum cleaner. |
| Cog Type Drive Belts | Provide positive power transfer from the motor to the revolving brush roll for many years of effective cleaning. |
| Double Row Brush Roll | Provides strong and rigorous carpet agitation to deep clean all types of carpets. |
| Extra Low Profile | Reach far under your beds and furniture with a low required clearance of only 5.5". |
| System Status Lights | Indicators on the nozzle top alert you to check for a full bag, blockage, or brush roll problem. |
| Five Year Parts & Labor Warranty by SEBO | SEBO provides five years of peace of mind, knowing that you will not have the expense of non-wear parts or labor which are covered by this warranty. |
| Outstanding Seven-Year Limited Warranties | SEBO provides two additional years of peace of mind, knowing that you will not have the expense of a motor repair which is covered by this 7-Year warranty. This reflects their confidence in this machine's excellent quality. This also reflects their confidence in this machine's excellent quality. |
---
Categories
Canisters & Power Teams

Upright Vacuums

Stick Vacuums

Central Vacuums

Bags

Filters

Belts

Light Bulbs

Hoses

Wands

Power Nozzles

Turbine Nozzles

Floor Nozzles

Dusting Brushes

Upholstery Nozzles

Crevice Tools

Special Attachments

Parts & Misc. Supplies
Types
Brands
Close panel