Hoover U6436-900 Vacuum Cleaner Introduction
Hoover, Inc. has been a leading innovator in the vacuum cleaner industry for many years. It is also one of the three oldest vacuum cleaner companies, having begun in 1908. Many years ago Hoover developed the first clean-air upright with a dial on its rear bag housing to switch between carpet cleaning and attachment use with a detachable hose. It was appropriately named the "Dial-a-matic". Incorporating a canister type motor, it created much better suction with its attachments than any other upright at that time. A number of competing companies eventually created similar clean-air uprights as well, the predecessors to many of the uprights being sold today. Hoover decided to move away from that design and concentrate more on the traditional upright design which tends to have better air flow for cleaning carpeted floors.
With the advent of Hoover's new WindTunnel™ upright, they are again manufacturing clean-air uprights having that design's inherent benefits plus a few additional ones from their innovative nozzle design. With the introduction of the Self Propelled WindTunnel series, Hoover took yet another giant step forward, greatly reducing the effort required to clean your carpets very well. This upright, which uses paper bags, sits proudly in Hoover's Self Propelled WindTunnel series. Also available is the Hoover U6618-900 TurboPower 8100 Self Propelled WindTunnel Bagless Upright which has a dirt container instead of a paper bag plus a few more deluxe features.
Self Propelled System Reduces Effort
Your hand movement on the Self Propelled Control Handle will smoothly control the forward and reverse motion of the Hoover U6436-900 WindTunnel Self Propelled upright, enabling you to clean precisely around your furniture without bumping into it. This new Hoover WindTunnel upright has a power driven transmission which takes a lot of the effort out of your carpet cleaning tasks.
Durable and Efficient Clean-Air Design
Automatic motor protection is an important benefit of the clean-air design used in Hoover's WindTunnel uprights. Most modern dirty-air uprights use a fairly small 3.5" to 4.5" diameter suction fan in order to make the fan chamber as small as possible. In order to provide good performance, especially when using the attachments, these powerful uprights spin their fan at an extremely high speed. Many fans in these traditional dirty-air designs just can't take the high impact from larger objects which are picked up. In many cases it's just a matter of time until a large enough object is picked up and the fan is broken.
The WindTunnel's clean-air design eliminates that problem completely by filtering the air with the paper bag and primary filter before it reaches the high speed suction fan. Also, it typically produces significantly more suction, especially when the hose and attachments are used. For more about these two designs, see our article on Fan or Impeller Types & Performance.
Powerful 12.0 Amp Motor
Strong suction and rigorous carpet agitation powered by its 12.0 amp. motor combine in the Hoover WindTunnel U6436-900 to deep-clean carpet as well as all other surfaces. This is the maximum amperage rating permitted for an upright to receive UL Approval. If you see a rating higher than twelve, it probably is an Efficiency Rating.
Featuring lifetime lubricated bearings, well balanced motor parts and the inherent motor protection of the clean-air design, it should perform dependably for many years. Since we have a great deal of confidence in this motor and this upright's "clean-air" design, we will give a Free Five Year Limited Suction Motor Warranty with all Hoover U6436-900 TurboPower 7600 Self Propelled WindTunnel uprights which are purchased from us for normal household use.
High Efficiency Allergen Filtration System
The high efficiency filtration system reduces recirculation of dust and allergens back into your home. An Allergen Filtration (MicroFiltration) paper bag and a secondary filter clean the air before it enters the motor. Following the motor the air is additionally cleaned by an extra large final filter. By using a fan fold design for this final filter, the area of the filter media is increased substantuilly. This enables this final filter to be very efficient while keeping the resistance to air flow at a minimum for improved cleaning performance.
WindTunnel™ Technology Cleans 56% Better than Dyson DC-14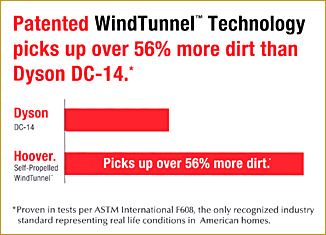 An important innovation is the unique patented WindTunnel technology applied to the brush roll housing. Designed almost like a housing within a housing, a "wind tunnel" with special air channels is around the primary roll housing. This design greatly reduces the scatter effect by brushing the grit, sand, etc. into this outer chamber where it is removed by the air flow. Recent tests per ASTM International F608 proved that this patented WindTunnel™ technology picks up over 56% more dirt than the Dyson DC-14. This is the only recognized industry test standard representing real life conditions in the American home. Dyson's cleaning performance is just one of the reasons why Ristenbatt Vacuum chooses to not recommend or sell that heavily advertised brand.
For a detailed description of this design and why it works so well, see our article on Cleaning Nozzle Design. This deluxe nozzle also has vinyl edge groomers on both sides to help clean right to the baseboard. The extra wide nozzle on the Hoover WindTunnel U6436-900 gives a total cleaning width of 15".
The brush roll is very effective with its two rows of fluorescent yellow bristles mounted on an auger shaped brush roll which helps move the dirt toward the nozzle's inlet. The auger shape also enhances the agitation by providing a beating effect combined with the brushing effect. A unique smoked see-through brush roll housing enables you to see the bright 2-row brush roll in action.
Brush Roll ON/OFF Switch
The revolving brush roll can easily be stopped with a flip of the brush roll ON/OFF switch, enabling you to go directly from cleaning carpet to cleaning vinyl or wood floors. This is important since a revolving brush roll can whip the small grit and dirt behind the machine before the air flow has a chance to pick it up. This WindTunnel even has non-marring soft wheels to help protect your non-carpeted floors.
The brush roll is automatically stopped when the handle is in the upright position for when you use the attachments. This prevents bed spreads, throw rugs, etc. from accidentally being caught in the vacuum cleaner while your attention is on the furniture being cleaned. This also provides a convenient way to stop the brush roll while moving furniture, etc.
Strong Suction with Attachments
Clean-air upright designs typically produces significantly more suction than their dirty-air counterparts when the hose and attachments are used. This is also the case with Hoover's WindTunnel uprights, providing plenty of suction to clean with the on-board attachments. By using a stretch hose, the distance which the air must travel when cleaning floors is shortened, reducing internal resistance and increasing air flow. The hose diameter on the WindTunnel is oversize as well, further enhancing the air flow.
Turbine Powered Hand Tool

Working and cleaning like a miniature upright with its 2-row revolving brush roll, the Turbine Powered Hand Tool is ideal for deep cleaning upholstery, carpeted stairs, beds, etc. Experience cleaning with the strong suction from your Hoover WindTunnel combined with the brushing action of this turbine driven nozzle. It's much more effective than using a small hand held vacuum cleaner. You too will be excited with the convenience and performance this Turbine Powered Hand Tool has to offer. With its 3 1/2" wide revolving brush roll, using this tool is like having a miniature upright in you hand. The revolving brush roll on the upholstery nozzle provides the brushing action needed to easily remove pet hair and lint from your upholstered furniture and carpeted stairs. This model carries the Turbine Powered Hand Tool in the covered tool storage whereas the former U6425-920 did not.
Far Reaching 31' Power Cord
The extra-long 31' power cord enables you to clean large areas without breaking your pace to change to a different electrical outlet. Its kinkless vinyl cover and the quick release top cord hook enable you to wrap in on the handle and remove it again with greater ease.
Outstanding Warranty by Ristenbatt Vac.
Hoover provides two years of peace of mind, knowing that you will not have the expense of a repair which is covered by their Two Year Limited Warranty. In addition to this, Ristenbatt Vacuum Cleaner Service will give a Free Five Year Limited Suction Motor Warranty with all Hoover U6436-900 TurboPower 7600 Self Propelled WindTunnel uprights which are purchased from them for normal household use. This provides three additional years of peace of mind, knowing that you will not have the expense of a suction motor repair which is covered by this warranty. This also reflects our confidence in this machine's excellent quality.
Product Availability
The Hoover U6436-900 WindTunnel Self Propelled Premium upright is sold primarily through their network of independently owned vacuum cleaner specialty stores like Ristenbatt Vacuum Cleaner Service. The Hoover U6660-900 TurboPower 8000 Self Propelled WindTunnel Bagless Upright has a dirt container instead of a paper bag plus a few more deluxe features. We also promote and sell additional models of Hoover Upright Vacuums, various Hoover Accessories & Attachments and Genuine Hoover Dustbags, Filters & Supplies.
Please feel free to call toll free at 800-413-2778 or 717-665-5126 for more details and information on this and additional models. All of our salespeople are also skilled technicians who are very knowledgeable about vacuum cleaners, both inside and out. They will be happy to talk with you regarding your various vacuum cleaner needs, preferences and desires. We are a vacuum cleaner specialty store providing outstanding customer service to all who purchase from us.
---
| | |
| --- | --- |
| Key Features | Major Benefits |
| Self Propelled Drive System | Provides power drive controlled by the Self Propelled Control Handle. This enables you to smoothly control the forward and reverse motion for reduced-effort carpet cleaning. |
| Clean-Air Design | Automatically protects the motor from damage by items picked up. Also produces significantly more suction when using the attachments. |
| Powerful 12.0 Amp. Motor | This motor produces plenty of power for any type of cleaning job. This is the maximum permitted amperage for UL Approval of an upright vacuum cleaner. |
| High Efficiency Allergen Filtration System | Extra large, multi-layer filter greatly reduces recirculation of dust and allergens back into your home. |
| Powered Hand Tool | The Turbine Powered Hand Tool with revolving brush roll. It works like a miniature upright with its revolving brush roll for deeper cleaning of carpeted stairs, upholstered furniture, beds, etc. |
| Double Row Auger Type Brush Roll | Provides strong and rigorous carpet agitation to deep clean all types of carpets. |
| WindTunnel Nozzle Housing | Greatly reduces the scatter effect by brushing grit, sand, etc. into an outer roll housing where it is removed by the air flow. |
| Brush Roll ON/OFF Switch | Conveniently go from cleaning carpet to non-carpeted floors without breaking your work pace. Automatically stopping the brush roll when using the attachments keeps objects from accidentally being caught in it. |
| Strong Attachment Suction | Efficiently reach into those hard to clean areas without breaking your work pace. Convenient for cleaning all types of furniture, window frames, baseboards, etc. |
| Extra Long 31' Cord | Clean large areas without breaking your pace to change to a different outlet. Easily wraps on the handle for storage and the quick release top cord hook enables fast and easy removal. |
| Two Year Warranty by Hoover | Provides two years of peace of mind, knowing that you will not have the expense of a repair which is covered by this warranty. |
| Free Five Year Limited Suction Motor Warranty by Ristenbatt Vacuum Cleaner Service | Provides three additional years of peace of mind, knowing that you will not have the expense of a suction motor repair which is covered by this warranty. This warranty also covers the cost of labor to replace or repair the suction motor. This reflects our confidence in this machine's excellent quality. |
---
Categories
Canisters & Power Teams

Upright Vacuums

Stick Vacuums

Central Vacuums

Bags

Filters

Belts

Light Bulbs

Hoses

Wands

Power Nozzles

Turbine Nozzles

Floor Nozzles

Dusting Brushes

Upholstery Nozzles

Crevice Tools

Special Attachments

Parts & Misc. Supplies
Types
Brands
Close panel