Hayden SuperPack Attachments Introduction
Hayden manufactures the world's most advanced central vacuums like their deluxe Hayden 7000 SuperVac and Hayden 9000 SuperVac units. Team this Hayden SuperPack with one of these powerful units to create a very efficient and durable Hayden SuperSystem. This kit consists of a 30' heavy duty dual-voltage SuperHose, deluxe power nozzle with quick-release telescopic wand, bare floor brush, dusting brush, upholstery tool and crevice tool. Also included is a hose hanger and a tool caddie for keeping the small attachments conveniently with you at all times. For more effective cleaning of your stairs and upholstered furniture, consider the optional motorized Hayden MiniMate shown below.
Setting a High Standard for Attachments
The high quality dual-voltage SuperHose features a super convenient finger-tip switch right in the hose end for controlling both the SuperVac central vacuum as well as the power nozzle. No longer is there a need to run back to the wall and remove the hose to stop the main power unit. Simply switch it off right where you are. To clean a small area of bare floor, simply turn off the power nozzle's motor and go right onto the bare floor without breaking your work pace. To change to using a different attachment, simply step on the power nozzle's quick-release lever and the telescopic wand is easily removed and available for use with the floor brush or other attachment.
The wall end of the hose is especially designed to work with Hayden's dual voltage SuperValve or most standard wall inlet valves. The SuperValve wall inlet incorporates the standard low voltage contacts for controlling the main power unit as well as a 115 volt receptacle providing current for the power nozzle's motor and headlight. All necessary connections are made by simply plugging Hayden's SuperHose into their SuperValve. For use on standard wall inlets, the hose can be configured with an optional 6' cord attached at the wall end. This cord needs to be plugged into a standard 115 volt household electrical outlet. As you can see, the SuperHose is much more convenient to use when combined with the SuperValve.
Last, but far from least, is the fact that the Hayden SuperHose is designed to be repairable at both ends, just in case it would eventually tear. This can provide a significant maintenance cost reduction over the life of the central vacuum system.
Quick-Disconnect Wand
Switching to a floor brush or other attachment is very easy with the convenient quick-disconnect telescopic wand. Simply step on the pedal at the base of the wand to remove it from the power nozzle. The electrical connection is also disconnected in that one easy operation. Slip on another attachment and you're ready to continue cleaning. To reattach the power nozzle, simply slip the wand into the power nozzle connector and it's ready to use again.
Durable Power Nozzle Construction
This power nozzle is designed to withstand hard use and still keep going. The main base is molded from a very tough plastic while the main cover is made of durable ABS plastic. The motor is protected by a circuit breaker to reduce the risk of damage to its internal parts. Featuring lifetime lubricated ball bearings and well balanced parts in the motor, it will perform quietly for many years. The brush roll bearings, while being sleeve types, are large and well designed to reduce wear and problems caused by dirt, hair, etc.
Effective Brush Roll and Multi-V Belt

Configured with two rows of bristles and combined with the positive power transfer of the multi-V belt, the brush roll is one of the most effective available in the industry. The reinforced drive belt, tensioned by a steel bar spring, provides positive power transfer from the motor to the revolving brush roll. The belt is reinforced to prevent stretching and to resist breakage over its typical life span of at least five to seven years. The convenient foot operated height adjustment on the power nozzle allows you to set it to match any type of carpet. The switch on the hose enables you to stop the brush roll to easily change to cleaning bare floors.
Unique Power Nozzle Housing
Located just behind the revolving brush roll in the power nozzle is a special flat dirt collection area. This area is uniquely designed to enhance dirt and grit pickup and reduce the scatter effect which many power nozzles and uprights experience. It is a space about 1 1/4" high and 1" deep that runs across the complete width of the nozzle. A vertical partition extends downward from the top between this area and the brush roll, leaving an opening about 1/2" high along the bottom just behind the brush roll. Most of the dirt and grit picked up by the brush roll is thrown directly into this area through the opening and whisk away by the air flow before it can bounce back out of the nozzle.
This dirt collection area also distributes the air flow quite evenly across most of the brush roll for more efficient and uniform cleaning. The air passage created by this collection area allows the air to easily flow from anywhere in the brush roll housing, through it and into the air intake which is located in the center of the area's back wall.
Inlets, Elbows, Piping, etc.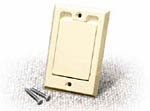 Installing a Hayden Central Vacuum System is within the abilities of most do-it-yourselfers. We have Hayden's wall inlets, elbows, etc. available individually, in 3-valve kits, and in 1-valve kits. The kits contain the wall inlet valves and sufficient elbows, etc. to do a typical installation. See Hayden Central Vac Inlets, Elbows, etc. for a complete list of inlets, elbows, etc. which we have available for your installation.
Product Availability
The outstanding Hayden 9000 SuperVac and 7000 SuperVac Central Vacuums and SuperPack Attachment Kits are available from Ristenbatt Vacuum Cleaner Service. We also provide professional installations in new or existing homes in south central Pennsylvania. The cost of having a Hayden SuperSystem installed in your home is much less than you may think. We also promote and sell additional models of Hayden Special Attachments, various Generic Central Accessories & Attachments and Genuine Generic Central Dustbags, Filters & Supplies.
Please feel free to call toll free at 800-413-2778 or 717-665-5126 for more details and information on this and additional models. All of our salespeople are also skilled technicians who are very knowledgeable about vacuum cleaners, both inside and out. They will be happy to talk with you regarding your various vacuum cleaner needs, preferences and desires. We are a vacuum cleaner specialty store providing outstanding customer service to all who purchase from us.
---
| | |
| --- | --- |
| Key Features | Major Benefits |
| Convenient SuperHose | The dual voltage design with direct connections at both ends provides the maximum convenience possible. Control for both the SuperVac central vacuum and the power nozzle is right at your finger tips. Being repairable at both ends reduces long term maintenance costs. |
| Compatible with SuperValve Wall Inlets | The one-step connection at the wall is a truly convenient feature. No more is there the need for a 6' cord to be plugged into an electrical outlet every time you plug in the hose. |
| Quick-Disconnect Wand | Quickly and easily change from using the power nozzle to other attachments. |
| Effective Brush Roll and Multi-V Belt | Combining a non-slip multi-V belt and a brush roll with two rows of stiff bristles provides maximum brushing action all the time. Belt life is typically five to seven years. |
| Dirt Collection Area with Center Mounted Air Intake | The flat area immediately behind the brush roll gathers the dirt and grit, substantially reducing the scatter effect. This area also distributes the air flow quite uniformly across the full width of the cleaning nozzle for more efficient cleaning. |
| Foot Operated Height Adjustment | Adjust to any carpet height or bare floor easily using your foot. |
| One Year Limited Warranty by Hayden | Provides one year of peace of mind, knowing that you will not have the expense of a repair which is covered by this warranty. |
---
Categories
Canisters & Power Teams

Upright Vacuums

Stick Vacuums

Central Vacuums

Bags

Filters

Belts

Light Bulbs

Hoses

Wands

Power Nozzles

Turbine Nozzles

Floor Nozzles

Dusting Brushes

Upholstery Nozzles

Crevice Tools

Special Attachments

Parts & Misc. Supplies
Types
Brands
Close panel