View the Newspaper Article
The following was originally published in BusinessMonday,
Intelligencer Journal, April 22, 2002, Lancaster, PA
Used with Permission
Mr. Clean
Ristenbatt clears a path to fame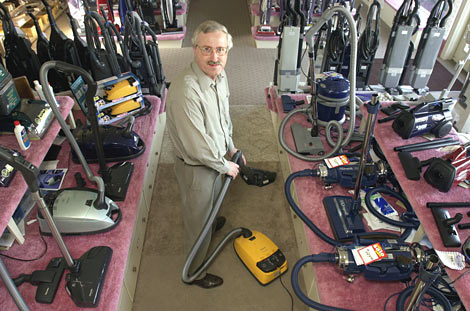 Intelligencer Journal photo by Dan Marschka
There's not a speck of lint, not a hint of dirt on the carpets of Ristenbatt Vacuum Cleaner Service's Manheim showroom, and that's fitting: David Ristenbatt, who's been part of the operation nearly his whole life, is a member of the Vacuum Cleaner and Sewing Machine Dealers Hall of Fame. And his business isn't restricted to the Lancaster area, or even Pennsylvania, anymore.
BY DAVID GRIFFITH
Intelligencer Journal Staff

It's a classic success story - a booming business begun years ago in a garage.
For David Ristenbatt, it was a defining moment in an 8-year-old boy's life when his father opened the original Ristenbatt Vacuum Cleaner Service store. The details of his father's career, which eventually became his own, get fuzzier the farther back in time he goes. After all, David was only 3 months old when his father, S. E. Ristenbatt, sold his first Air-Way vacuum door-to-door. That was in 1949.
For the next eight years the elder Ristenbatt worked full time as a millwright at Trojan Boat, canvassing neighborhoods selling vacuums in his off hours. A back injury sidelined him, however, and in March, 1957 he decided he enjoyed working with vacuum cleaners enough to go into business for himself.
He bought a stand at Green Dragon Market in Ephrata, then opened a couple more market stands. About two years later, the basement of the Ristenbatt home in Manheim was turned into a workshop and half of the two-car garage made the perfect, if modest, salesroom.
Today, David Ristenbatt is listed in the Vacuum Cleaner and Sewing Machine Dealers Hall of Fame. His company boasts two stores and a pair of market stands, all offering what Ristenbatt says is Lancaster's most diverse selection of vacuum and steam cleaners, with more than 75 models on display.
Ristenbatt was nominated for a place in the hall of fame by the Eureka Company. He was inducted in 1995. The hall of fame was established just a year earlier, and now includes 115 members. To be inducted, a dealer must have more than 20 years of experience, and have conducted his or her business in a way the Vacuum Dealers Trade Association considers positive.
David Ristenbatt has trouble recalling exactly when he learned what about vacuum cleaners, because he grew up tinkering with customers' machines. He knows that by the time he was 12, his father counted on him as a part-time employee. "I basically grew up in the business. I learned it by growing up in it, and working on (cleaners). I'm very mechanically inclined. I'm also a techie," he said. "Initially, my father taught me what he learned, but he learned it all on his own, too."
David Ristenbatt said he remembers a day when his father doubled the size of that first store by tearing out a partition in the garage. "In 1966, we more than doubled our size again when we built the Manheim store adjacent to our home, but facing Route 72," he said.
A second store was opened in 1971, inside a renovated gas station on Lincoln Highway East, once again doubling the size of the business. He called that move a major step because it brought the business closer to Lancaster and its population. "That was a big move for us at the time," he said. "My father's goal was to make our stores as warm and inviting as possible, well lit, clean and nicely laid out."
In addition to the two stores, at 1038 Lancaster Road in Manheim and 1724 Lincoln Highway East near Lancaster, the company maintains a stand at Green Dragon on Fridays, and Roots Country Market on Tuesdays.
Customers are welcome to try as many machines as they like, choosing from manufacturers like Miele, Lindhaus, SEBO, Hoover, Eureka, Panasonic, Royal and Shop-Vac.
Prices range from less than $100 for a Eureka upright, to more than $1,000 for a Miele, a Germany-made machine Ristenbatt said is worth every penny. "They're very good machines, very quiet and yet powerful," he said. "We sell a lot of vacuums around the $200 to $300 range. The Hoover WindTunnel is very popular."
Ristenbatt's induction into the vacuum hall of fame in 1995 coincided with the company's entry into cyberspace. Ristenbatt said a year later, his company was one of the first vacuum dealers to appear on the Internet and utilize the online frontier as a marketing tool. "We were on the Web even before most of our manufacturers," he said.
The company's Web site, www.ristenbatt.com, offers Facts About Vacs, a comprehensive site including articles about performance, efficiency, construction and design of vacuum cleaners, along with detailed descriptions of what Ristenbatt recommends and sells.
"Early on I realized that we could present much more information to the public on the Web than we could in any other media," Ristenbatt, who developed and continually updates the site, said.
A Web site is never done. It has almost become like a hobby to me since I invested so much of my personal time working on it. People are very impressed with the amount of information on our site." Ristenbatt said the site generates sales from around the world, and he enjoys receiving e-mail inquiries from prospective buyers.
"With the Internet, it keeps us more price-conscious. I put thousands of hours in the Web site," he said. "I spend a lot of time doing it, and I thoroughly enjoy it. I enjoy computer programming, too. I never went to college, but I never stopped learning, either."
Ristenbatt said prices of vacuum cleaners are about the same as they were 20 years ago, making for a tough marketplace. "We have to be competitive with the department stores and those guys," he said. "We are typically going to spend between a half-hour and an hour with a customer. They get to talk to someone who can answer their questions. "It's tough, because your overhead goes up. Labor rates have gone up some. You basically have to do it in more volume." he said.
And in a throwaway society, many consumers prefer a less-expensive vacuum cleaner and are happy with the three to five years they get from it. A mid-priced vacuum, like the Hoover WindTunnel that sells for $250 or so, will last five to seven years, Ristenbatt said.
"The days of doing the complete overhaul, where you tear a motor apart, which you used to do every five to seven years, you don't do that anymore because it's too labor-intensive, and most vacuums aren't worth it," he said. "We don't do nearly the repairs we used to do at our Lancaster store, but in Manheim we do. Here we have more of an agrarian, rural clientele, and they tend to buy the better products. In Lancaster you have the more urban clientele, a lot of times lower income.
David Ristenbatt's role in the business, which was incorporated in 1979, gradually became larger. And he took over management when his father died in 1980, although his mother, Mabel, was president for a few years. It remains a family operation, with David's sister, Ruth Burkholder, handling accounting for the company on a part-time basis, and his son and daughter, Daniel and Debra, as full-time employees. David's wife, Donna, also has helped out.
In all, the company employs eight people full time, all of whom are both technicians and sales representatives. "We pay our employees better than most of the competition, and that way we have good long-term employees," Ristenbatt said. "Most of our employees have 10 or more years here. It's efficient because although we could pay a salesperson less, the nice thing is, when a customer comes into the store, they're talking to someone who really, really knows the product."
Ristenbatt himself has always had a fascination with electronic and computers. "Today, geeks rule the world," he said. A ham radio operator, Ristenbatt was licensed by the Federal Communications Commission in the 1970s to work on radio and television transmitters. He is a member of a small corporation which owns an FM translator, which rebroadcasts signals to the Lancaster area from Christian radio station WKDN in Camden, N.J.
Ristenbatt's love for technical things has paid off for his company, which now sells a third of its cleaners over the Internet. "It's a blessing for us I never expected," he said. "We offer free shipping and we have competitive prices, but it's because of our expertise. It really shows us as vacuum cleaner experts."
Ristenbatt said most Internet buyers are in the market for a good, durable machine, but many are also shopping electronically because it's easier in some ways. Often, after viewing the Web site, customers use a toll-free number to call and ask more questions.
"We're used to hopping in the car and being at a store in a half hour or less," Ristenbatt said. "In a lot of areas, you have to drive farther to get to a major store or city. It is a convenience factor. Plus, we have a very liberal 15-day return policy. All they pay is the shipping back to us.
Copyright © Lancaster Newspapers Inc. - LancasterOnline.Com
Scanned Image of the Actual Article - Front Page
Scanned Image of the Actual Article - Inside Page

Mr. Ristenbatt Honored by Vacuum Industry's Hall of Fame

Next Article About Ristenbatt Vacuum: View Honors and Awards
Index of Related Articles
---
Categories
Canisters & Power Teams

Upright Vacuums

Stick Vacuums

Central Vacuums

Bags

Filters

Belts

Light Bulbs

Hoses

Wands

Power Nozzles

Turbine Nozzles

Floor Nozzles

Dusting Brushes

Upholstery Nozzles

Crevice Tools

Special Attachments

Parts & Misc. Supplies
Types
Brands
Close panel