Titan T9000 Vacuum Cleaner Introduction
Titan canisters with power nozzles are manufactured by Cleva North America, Inc. and sold in vacuum cleaner speciality stores like Ristenbatt Vacuum. Steel City Vacuum Company, a major national distributor, has these vacuums manufactured as "Titan", their brand name. Cleva also manufactures similar vacuums for Sears with their "Kenmore" brand name.
The Titan T9000 combines style with functionality and durability in this power team. Deluxe features include a finger-tip on/off switch and electronic suction control on the hose handle, quick disconnect hose and wands, integrated dusting brush, reinforced banded v-belt and HEPA exhaust filter. Titan power teams provide exceptional value in their price range.
Powerful 12 Amp. System
The main suction canister and its motorized power nozzle work together to create a powerful 12 Amp power team that produces strong suction and good agitation for deep cleaning any type of carpeted floors. Featuring lifetime lubricated ball bearings and well balanced motor parts in both the suction motor and power nozzle motor, it will perform quietly for many years.
Deluxe Hose with Finger-tip Power Controls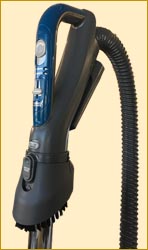 With the Titan T9000, you have complete power control right at your finger tips. The slide switch give you the ability to easily turn the vacuum and power nozzle on and off plus control the vacuum's suction. You can even use the power nozzle to clean areas of bare floors, stopping the power nozzle motor and revolving brush roll by simply sliding the power switch back a notch. This is especially convenient for cleaning the bare floors around area rugs. The hose diameter is oversize as well, enhancing the power team's air flow by reducing the internal resistance from the hose.
Titan canister vacuums have large dusting brushes that integrate with their deluxe hoses. This special design enables you to keep the dusting brush easily accessable, even when using the wand and power brush. To switch to dusting your furniture, window sills, etc. simply disconnect the wand and start dusting. If desired, the dusting brush can be removed from the hose hande.
Deluxe Power Nozzle with Dual Edge Brushing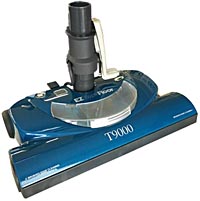 This Titan Power Nozzle is one of the best available. It features a reinforced, banded V-belt for positive power transfer from the motor and a brush roll with two rows of bristles for rigorous agitation to deep clean of your carpets. The belt is positioned indented from the edge of the brush roll, enabling edge brushing on both sides on the power nozzle. Being reinforced and held tight by a steal tension spring, it will not stretch nor slip like the flat rubber belts used on many power nozzles. If a large object inadvertently enters the cleaning nozzle and drastically slows or stops the brush roll and motor, its overload protector reacts quickly to turn it off, protecting the belt and brush motor.
Electric Pet Pickup Tool

Designed to provide outstanding cleaning performance on carpeted stairs and upholstered furniture, the Titan Pet Pickup Tool has a motor driven revolving brush roll with two rows of bristles. It is like using a miniature power nozzle, being more aggressive than hand-held turbine nozzles. This special nozzle carries conveniently in a covered storage area on the top of the vacuum behind the other attachments.
Convenient Covered Attachment Storage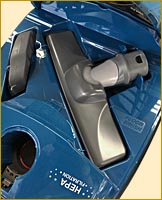 The Titan model T9000 carries its Floor Brush, drapes tool and motorized Pet Pickup Tool conveniently tucked away in two covered tool storage areas on the main unit where they are always easily accessible. This design reduces the risk of bumping these attachments, accidentally knocking them from the vacuum cleaner.
Additional Deluxe Features
To round out this deluxe power team, Titan includes a number of additional deluxe features. The high filtration fabric HEPA bag and fan-fold HEPA Exhaust Filter reduce recirculation of dust and allergens back into your home. The large, easy rolling rear wheels, swiveling front wheel allow the cleaner to be conveniently pulled after you by its hose. When finished with your cleaning tasks, the 24' power cord automatically rewinds back into the cleaner with a light touch of the wide rewind pedal.
Product Availability
The Titan T9000 deluxe power teams are marketed through vacuum cleaner specialty stores like Ristenbatt Vacuum Cleaner Service, Inc. We also promote and sell additional models of Titan Power Teams, various Titan Accessories & Attachments and Genuine Titan Dustbags, Filters & Supplies.
Please feel free to call toll free at 800-413-2778 or 717-665-5126 for more details and information on this and additional models. All of our salespeople are also skilled technicians who are very knowledgeable about vacuum cleaners, both inside and out. They will be happy to talk with you regarding your various vacuum cleaner needs, preferences and desires. We are a vacuum cleaner specialty store providing outstanding customer service to all who purchase from us.
---
| | |
| --- | --- |
| Key Features | Major Benefits |
| Powerful 12 Amp. Power Team | Combined power of the suction motor and power nozzle motor provide strong suction and rigorous agitation for deep cleaning of any type of carpeted floor. |
| Powered Pet Pickup Tool | Its electric motor provides plenty of power to quickly remove pet hair from carpeted steps and upholstered furniture. |
| Deluxe Power Nozzle | Combining a reinforced, banded V-belt and a brush roll with two rows of stiff bristles, it provides maximum brushing action all the time. |
| Finger Tip Power Controls | Easily turn the main unit and power nozzle on and off with your finger tips as well as adjust the power level for the right amount of suction for the job. |
| Covered Attachment Storage | Always have the your attachments available without the risk of knocking them off the machine. |
| Automatic Cord Rewind | Automatically rewinds the cord back into the cleaner simply by pushing the wide rewind pedal. |
| One Year Limited Warranty | Provides a year of peace of mind, knowing that you will not have the expense of a repair which is covered by this warranty. |
---
Categories
Canisters & Power Teams

Upright Vacuums

Stick Vacuums

Central Vacuums

Bags

Filters

Belts

Light Bulbs

Hoses

Wands

Power Nozzles

Turbine Nozzles

Floor Nozzles

Dusting Brushes

Upholstery Nozzles

Crevice Tools

Special Attachments

Parts & Misc. Supplies
Types
Brands
Close panel