Sanitaire SL635A Vacuum Cleaner - Professional 12" Upright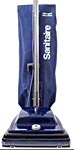 Sanitaire SL635A Vacuum Cleaner Introduction
If you are looking for a powerful and very durable upright vacuum cleaner at an economical price, the Sanitaire SL635A Professional upright may be the one for you. For many years Sanitaire has had an excellent track record of consistently producing commercial quality products which perform well and seem to last forever. The Sanitaire SL635A Professional continues their tradition of excellence with its outstanding cleaning effectiveness, incorporating an efficient motor with extra-large suction producing fan and very durable revolving brush roll.
Heavy Duty Construction
The Sanitaire SL635A is a professional quality upright which is designed for heavy duty home cleaning. Its base plate and complete handle are made from durable chrome plated steel. Even the handle release pedal and latching mechanism are made of hardened steel for extra long life. Eureka is an industry leader, having successfully used Lexan for manufacturing their upright bases, fans, and other parts requiring high impact resistance since the mid 1960s. Lexan is General Electric's registered trademark for a particular type of polycarbonate resin. It is an extremely tough and strong synthetic plastic with the ability to maintain its shape and size even under great stresses over a wide range of temperatures. This makes it ideal for the main base of the Sanitaire SL635A. It is light weight but extremely tough, being able to flex and handle high impacts without breaking. The hood is made from high impact ABS plastics for long life as well.
Efficient 5.0 Amp Motor
Large amounts of air flow and rigorous carpet agitation powered by its 5.0 amp. (600 watts) high performance motor combine in the Sanitaire SL635A Professional upright to deep-clean all types of carpeted floors. Featuring lifetime lubricated ball bearings and well constructed motor parts it will perform dependably for many years. When it comes to cleaning carpeted floors, this upright will out perform most uprights, even those with higher amperage ratings.
Efficient and Durable Suction Fan
The sturdy, well designed suction fan in the Sanitaire SL635A is one of the most efficient in the industry. The fan's extra large diameter and tall blades are designed to handle large volumes of air efficiently. This special fan, combined with the extra large air passages and extra large paper bag, produces an extremely high amount of air flow through the system for very effective cleaning. Being made with Lexan, it is extremely tough with the ability to maintain its shape and size even under great stresses over a wide range of temperatures. Its ability to flex with impact enables its blades to take direct hits from large debris with minimal risk of breaking.
Center Mounted, Funnel Shaped Air Intake
The center mounted air intake behind the brush roll flares out to the edges of the cleaning nozzle as it approaches the brush roll. This wide funnel shaped opening causes the air flow to be distributed quite evenly across the entire cleaning width for more efficient and uniform cleaning. This also creates a flat dirt collection area immediately behind the brush roll so dirt and grit are gathered and whisk away by the air flow before they can bounce back out of the nozzle. This substantially reduces the scatter effect which many uprights experience when picking up grit and small stones.
Triple Filtered Bag System
The Sanitaire SL635A comes equipped with a filtered outer bag which is designed for use with extra large paper bags for greatly increased filtering efficiency. You can choose from two types of paper bags to use in the Sanitaire SL635A, depending on your filtration needs. Their economical standard paper bag is designed for those who do not need the micron capabilities of Eureka's Premium paper bags. Their Premium paper bags have a filtration efficiency of 99.9% down to 1 micron in size, making them capable of filtering out over 99% of pollens, 98% of selected bacteria and 95% of all yeast and fungi that would normally be put back into your home's air after vacuuming with standard dust bags. Premium bags have the ability to filter out 10 times more of sub-micron size particles than ordinary vacuum cleaner bags. This filtration is accomplished with minimal loss of air flow.
Far Reaching 30' Power Cord
The extra-long 30' power cord enables you to clean large areas without breaking your pace to change to a different electrical outlet. Its kinkless vinyl cover and the quick release top cord hook enable you to wrap in on the handle and remove it again with greater ease.
Convenient Height Adjustment
Easily adjust the Sanitaire SL635A to match the exact height of your carpets with the front mounted height adjustment knob. This enables you to set it exactly as need for optimum cleaning and ease of use.
Product Availability
The Sanitaire SL635A Professional upright vacuum cleaners are sold primarily through their network of independently owned vacuum cleaner specialty stores like Ristenbatt Vacuum Cleaner Service. We also promote and sell additional models of Sanitaire Upright Vacuums, various Sanitaire Accessories & Attachments and Genuine Sanitaire Dustbags, Filters & Supplies.
Please feel free to call toll free at 800-413-2778 or 717-665-5126 for more details and information on this and additional models. All of our salespeople are also skilled technicians who are very knowledgeable about vacuum cleaners, both inside and out. They will be happy to talk with you regarding your various vacuum cleaner needs, preferences and desires. We are a vacuum cleaner specialty store providing outstanding customer service to all who purchase from us.
We provide FREE Shipping of this model via UPS Ground to anywhere in the contiguous USA. You can Order Online with our secure checkout or call us at 800-413-2778 or 717-665-5126 to place a Phone Order. Orders can be charged to any major credit card issued in the USA. We ship only within the United States of America.
---
| | |
| --- | --- |
| Key Features | Major Benefits |
| Heavy Duty Construction | This upright is designed to perform well for many years with minimal maintenance costs in the average home. Its typical life span is fifteen to twenty years. |
| Efficient 5.0 Amp Motor | Produces large amounts of air flow and rigorous carpet agitation for deep cleaning any type of carpeting. Out performs most uprights, even those with higher amperage ratings. |
| Efficient and Durable Suction Fan | Large diameter and high blade design handles large volumes of air efficiently for improved cleaning. Made with Lexan, it is extremely tough, flexing to resist breakage by large debris. |
| Center Mounted, Funnel Shaped Air Inlet | More evenly distributes the air flow across the full width of the cleaning nozzle. The flat area immediately behind the brush roll gathers the dirt and grit, substantially reducing the scatter effect which many uprights experience when picking up grit and small stones. |
| Triple Filtered System | The filtered outer bag and paper bag provide excellent filtration. Optional use of Eureka's Premium paper bags increases the total filtration so the exhausted air is 99.9% fresh. |
| Extra Long 30' Cord | Clean large areas without breaking your pace to change to a different outlet. Easily wraps on the handle for storage and the quick release top cord hook enables fast and easy removal. |
| One Year Limited Warranty by the manufacturer | Provides one year of peace of mind, knowing that you will not have the expense of a repair which is covered by this warranty. |