SEBO White E3 Vacuum Cleaner with ET-1 Power Nozzle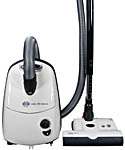 Optional Accessories and Supplies for the
SEBO White E3 Vacuum Cleaner with ET-1 Power Nozzle
Optional Accessories & Attachments
SEBO Turbine Upholstery Nozzle #6179CFF
The brushing action by the turbine driven revolving brush roll in this SEBO 1 1/4" Upholstery Nozzle provides deeper cleaning of your upholstered furniture and carpeted stairs. Experience cleaning with the strong suction from your SEBO vacuum cleaner combined with the brushing action of this turbine driven nozzle. It's much more effective than using a small hand held vacuum cleaner.

Important: This 1 1/4" attachment is for use with a SEBO K, C or D series canister vacuum that has a power nozzle. It requires the optional SEBO Adapter to 1 1/4" Attachments to fit these models. The SEBO 38mm Turbine Nozzle fits directly on SEBO uprights as well as K, C or D series vacuums that do not have electric power nozzles.
Code: 6179CFF
SEBO Canister Turn & Clean Parquet Floor Brush

This SEBO Turn & Clean floor brush is specifically designed for cleaning Parquet floors although it works well on all non-carpeted floors. It is 12" wide having brush strips around its edges. Notches in the brush strip allow dirt to easily enter the nozzle.

The 38mm wand connector with latch has a 2-way swivel which enables the brush to turn 180 degrees to the left or right similar to a swiffer or old fashioned dry mop as the wand is twisted. This action makes the attachment very agile to easily clean around closely spaced furniture. You can even slide it sideways into narrow spaces. Add this very agile floor brush to the SEBO Canister above to reach into those tighter areas. The canister comes with SEBO's regular floor brush.
Code: 1327WS &nbsp &nbsp Mfg. Code: 1327WS
SEBO Straight Wand #1084GS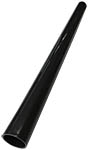 This 22" SEBO Straight Wand connects to their uprights and canisters to extend the reach by about 18" for cleaning higher areas. Its ABS Plastics construction enables it to be both light weight and durable. Extend the reach of your SEBO E3 vacuum with this lightweight extension wand.
Code: 1084GS
Plastic SEBO 38mm to 1 1/4" Tool Adapter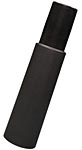 This plastic SEBO attachment adapter fits on all SEBO Canister and upright hoses and wands to enable the use of standard USA 1 1/4" attachments. These include attachments on Shop-Vac, Eureka, many Electrolux models and some Hoover uprights plus various other USA brands. You will find a number of attachments for use with this adapter described on our Attachments to fit American Standard Size Vacuums page. Purchase this adapter from SEBO 38mm to 1 1/4" size to enable using many additional attachments with the vacuum shown above.
Code: 1995AD &nbsp &nbsp Mfg. Code: 1995AD
Genuine SEBO Supplies
SEBO E Series Disposable Fabric UltraBags #8300AM - Pk. of 8
Box of eight Genuine SEBO high filtration white fabric UltraBags™ to keep your SEBO E Series canister performing well. The white fabric filter media used to construct the SEBO UltraBag cleans the air much better plus enables greater air flow compared to their previous paper bags. Attached plastic tabs enable you to close the paper bag inlets before removing them for disposal. Include additional paper bags when ordering the SEBO vacuum shown above and receive free shipping in the contiguous USA as well.
Code: 8300AM &nbsp &nbsp Mfg. Code: 8300AM
Filter Kit for SEBO E Series Canisters #8322AM

This SEBO Service Kit contains one each of the SEBO E Series Microfilter and Exhaust Microfilter to keep your SEBO vacuum performing well. Include this E-Series Service Kit when ordering the SEBO vacuum shown above and receive free shipping in the contiguous USA as well.
Code: 8322AM &nbsp &nbsp Mfg. Code: 8322AM
https://www.ristenbatt.com/xcart/SEBO_White_E3_Vacuum_Cleaner_with_ET-1_Power_Nozzle.html