SEBO White FELIX Vacuum Cleaner - 12" Wide Upright
Optional Accessories and Supplies for the
SEBO White FELIX Vacuum Cleaner - 12" Wide Upright
Optional Accessories & Attachments
SEBO Turbine Upholstery Nozzle #6179ER

The brushing action by the turbine driven revolving brush roll in this SEBO 38mm Upholstery Nozzle provides deeper cleaning of your upholstered furniture and carpeted stairs. Experience cleaning with the strong suction from your SEBO vacuum cleaner combined with the brushing action of this turbine driven nozzle. It's much more effective than using a small hand held vacuum cleaner.

If you have a SEBO K, C or D series canister vacuum that has a power nozzle, SEBO recommends using their Adapter to 1 1/4" Attachments and 1 1/4"Turbine Nozzle instead of this one since the receptacle prevents the nozzle from holding firmly on the hose handle.
Code: 6179ER
SEBO Natural Hair Dusting Brush #1387GS
This SEBO Dusting Brush is constructed of rigid but slightly flexable dark grey ABS Plastics, making it quite durable. Long, soft natural hair bristles around its perimeter are quite gentle as you clean your home's hard surfaces. This dusting brush is for all SEBO models except the D Series. Add this attachment to the SEBO FELIX upright shown above since it is not included with it.
Code: 1387GS &nbsp &nbsp Mfg. Code: 1387GS
SEBO 9' Extension Hose #1495AM
This SEBO 9' Stretch Exhension Hose connects to the attached hose on their uprights plus to extend the total hose length. This hose is great for reaching high areas and cleaning stairs while keeping your SEBO upright or canister vacuum safely at the bottom.
Code: 1495AM
SEBO Straight Wand #1084GS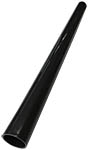 This 22" SEBO Straight Wand connects to their uprights and canisters to extend the reach by about 18" for cleaning higher areas. Its ABS Plastics construction enables it to be both light weight and durable.
Code: 1084GS
Genuine SEBO Supplies
Genuine SEBO FELIX Upright Disposable Fabric UltraBags #7029ER

Box of eight Genuine SEBO high filtration disposable fabric UltraBags™ to keep your SEBO FELIX upright performing well. The white fabric filter media used to construct the SEBO UltraBag cleans the air much better plus enables greater air flow compared to their previous paper bags. The attached plastic disk snaps into the hole before removing the bag for disposal, locking all the dust and dirt inside the bag. Include additional paper bags when ordering the SEBO upright shown above and receive free shipping in the contiguous USA as well.
Code: 7029ER &nbsp &nbsp Mfg. Code: 7029ER
SEBO FELIX Motor Protection Filter - 7012ER

This SEBO Motor Protection Filter is for use in their FELIX uprights to keep them performing well. It is located under the paper bag in the vacuum. Replace this filter periodically when it appears darkened. It can be easily seen below the paper bag.
Code: 7012ER &nbsp &nbsp Mfg. Code: 7012ER
https://www.ristenbatt.com/xcart/SEBO-White-FELIX-Upright.html