SEBO C3.1 Vacuum Cleaner Introduction
The SEBO C3.1 Full-size Power Team is designed for customers who desire a long-lasting full-size canister with power nozzle that will provide very high filtration and a cleaner home environment. It boasts many deluxe features including a sealed S-class filtration system, easy-to-change paper bag and a deluxe power nozzle with a quick-disconnect electric telescopic wand. Performance is enhanced by a powerful suction motor, non-slip cog belt and aggressive brushing action.
Multi-Layer System Provides S-Class Net Filtration
Having a vacuum cleaner with HEPA filter doesn't guarantee that the exhausted air will actually meet that stringent standard. Quite a few with HEPA exhaust filters are not completely sealed so they can have significant dust leakage through seams in their cases, greatly reducing the beneficial effects of their HEPA filters. Dust leakage can be a major problem for those with dust related allergies or asthma.
The SEBO C3.1 Full-size Canister vacuum has multiple layers of filtration media in a completely sealed system. This very efficient filtration system consists of a large three layer paper bag, fan-fold Hospital-Grade Microfilter, large area fan-fold Micro-Exhaust Filter and a textile "air belt" final filter/furniture guard. While no specific filter is called a HEPA filter, the net filtration of the complete vacuum meets the stringent S-Class (HEPA) specification with an efficiency greater than 99.97% at 0.3 µm (micrometers - formerly microns). Net filtration is derived from testing the complete vacuum cleaner in operation versus the filter media alone. This is important for your home because it is the only rating system that measures total equipment filtration efficiency.
S-Class is a designation used by Europeans to indicate that a filter or system meets stringent standards like the British Standard 5415 and German norm: DIN 2418B Ti-E EU 13 for filtration performance. It is essentially the same as the HEPA specification in the USA.
Low Operating Costs
Most HEPA filters need to be replaced every six or twelve months at an operating cost of about $1.00 per week. SEBO reduces your operating costs by incorporating a high efficiency paper bag and lower cost filters to create a very efficient S-Class filtration system without using an expensive HEPA filter. SEBO recommends replacing the Hospital-Grade Microfilter and Micro-Exhaust Filter whenever you use sixteen paper bags. To help you with this, they have a Service Kit available which contains ten paper bags, one Hospital-Grade Microfilter and one Micro-Exhaust Filter for $59.99.
The additional eight paper bags which you need between filter changes can be purchased in a
Box of 10 Paper Bags
for
$34.99
.
Fingertip Electronic Motor Speed Control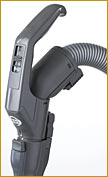 The SEBO C3.1 full-size canister vacuum is also equipped with a fingertip speed control slide which adjusts the air flow up to 120 CFM, giving you complete control when you clean. This fingertip electronic speed control enables you to select the proper amount of power for cleaning anything from draperies to plush carpeting. Reducing the suction prevents curtains, upholstery or area rugs from inadvertently being drawn into the cleaning nozzle. This speed control slide also functions as a convenient on/off switch for the main vacuum cleaner. The ergonomically handle design and position reduce wrist and arm fatigue while cleaning. You'll also enjoy having an extra long 7' hose which allows the vacuum to follow farther behind you, giving you more space to maneuver.
Direct Connect Hose, Wand and Powerbrush
SEBO's Direct Connect Electric Hose automatically makes the electrical connections when you insert it into the cleaner. In addition to the direct connect at the cleaner, this electric hose mates with the top of the Direct Connect Electric Wand. The bottom of this wand mates with the deluxe ET-1 Direct Connect Powerbrush. This electric wand even telescopes so you can easily adjust it to match your individual stature. For convenient storage, it collapses to about half its total height.
When you attach the wand to the hose and the powerbrush to the wand, all electrical connections are made automatically. Removing them is just as easy. There are absolutely no exposed cords on the hose, wand and powerbrush which need to be plugged in manually. This direct connect feature between the electric hose, electric wand and powerbrush provides even more convenience and user friendliness. It really makes it a breeze to switch between the powerbrush, Parquet floor brush or other attachment without breaking your pace.
Deluxe ET-1 Direct Connect Power Nozzle
Good cleaning effectiveness is accomplished by arranging the bristles in a 360 degree convergent format on the brush roll. The steep spiral of the bristles, combined with its high speed, efficiently moves the dirt toward the dirt intake. The long wearing bristles are designed to withstand even hard commercial use.
You can very easily and quickly removed the brush roll to replace it or simply remove wrapped hair and thread from it. Simply rotate the end plate to remove it and twist the brush roll slightly and slide it out through that opening. Replacing it is just as easy. This is a very nice feature for those dealing with long human or pet hair which wraps on any revolving brush roll. There even are raised thread guard rings at the roll's ends which prevent hair and thread from getting into the bearings by flipping over the ends of the roll.
This deluxe power nozzle also includes a safety circuit breaker to protect it should you accidentally catch something in the brush roll. Another nice feature is an on/off switch so you can stop the brush roll when cleaning bare floors. A 4-position height adjustment knob enables you to set the nozzle height to match any carpet height or floor surface.
Cog Type Drive Belt
The cog type drive belt provides positive power transfer from the power nozzle motor to the revolving brush roll. This is accomplished by incorporating cogs (gear like ridges) into the belt's inner surface which mesh with cogs on the motor and brush roll pulleys. The belt is reinforced to prevent stretching and to resist breakage over its entire life span. These non-slip cog belts keep the brush roll revolving at its normal speed year after year for maximum effectiveness.
Deluxe Parquet Floor Brush.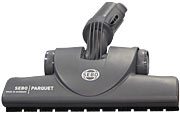 With the advent of beautiful Parquet floors, SEBO has designed a floor brush for gently cleaning them. This special Parquet floor brush is 12" wide, having brush strips with soft natural hair bristles along the front and back edges of the nozzle. Wheels with soft tires located at the back of the nozzle carry the downward force of the wand, enabling the natural hair bristles to glide gently over your floors. Notches in the front brush strip allow dirt to easily enter the nozzle. The elbow has a two-way swivel which enables it to clean under low furniture with ease. A long tab on the back of the elbow allows this tool, the wand and hose to be held by the parking slot on the back or side of the SEBO C3.1 vacuum.
All Four Wheels Swivel 360 Degrees
The SEBO C3.1 canister is designed to track nicely behind you as you pull it by the hose. It is equipped with four wheels which turn a full 360 degrees making it very easy to maneuver and very stable. Going over electrical cords, door thresholds and around furniture is a breeze. Since it can be moved in any direction, being able to easily push it out of your path when working near the machine is an added convenience. Soft tires on these wheels help protect your wooden and other non-carpeted floors.
Outstanding SEBO Warranties.

When used for private household purposes, if a SEBO vacuum cleaner fails due to a defect in materials or workmanship (excluding wear parts) within one year from the date of purchase, SEBO will guarantee its repair or replacement, at SEBO's discretion, at no cost to the customer for either labor or non-wear parts. SEBO will continue to guarantee all non-wear parts for a period of five years from the date of purchase. In addition to this, SEBO provides a Five Year Limited Motor Warranty with all SEBO C3.1 vacuum cleaners purchased for private household use. This provides additional years of peace of mind, knowing that you will not have the expense of a repair which is covered by this motor warranty. See the SEBO Warranty for more details.
Product Availability
The SEBO Air Belt C3.1 Full-size Power Teams are made in Germany and sold in the U.S.A. primarily through their network of independently owned vacuum cleaner specialty stores like Ristenbatt Vacuum Cleaner Service.
We also promote and sell additional models of
SEBO Canisters & Power Teams
, various
SEBO Accessories & Attachments
and
Genuine SEBO Dustbags, Filters & Supplies
.
Please feel free to call toll free at 800-413-2778 or 717-665-5126 for more details and information on this and additional models. All of our salespeople are also skilled technicians who are very knowledgeable about vacuum cleaners, both inside and out. They will be happy to talk with you regarding your various vacuum cleaner needs, preferences and desires. We are a vacuum cleaner specialty store providing outstanding customer service to all who purchase from us.
---
| | |
| --- | --- |
| Key Features | Major Benefits |
| S-Class Filtration System | The S-Class system retains over 99.97% of pollens, household dust, dust mites and other allergens as small as 0.3 µm in size. For particles 1 µm and larger, the filtration rate is 100%. |
| Completely Sealed System | Ensures that all air flow passes through all filters to be cleaned by them. It also improves the cleaning performance since all air flow passes through the hose and attachments as well. |
| Low Operating Costs | Obtain efficient S-Class filtration without the need to replace expensive HEPA filters every six to twelve months. |
| Fingertip Speed Control | Enables you to easily select the proper amount of power for cleaning anything from draperies to plush carpeting. Fingertip operation is very convenient for suction and on/off control. |
| Direct Connect Attachments | The electrical connections on the electric hose, wand and powerbrush automatically are made when attaching these items. There are no external cords which must be manually connected. |
| Double Row Brush Roll | Provides strong and rigorous carpet agitation to deep clean all types of carpets. |
| Cog Type Drive Belt | Provide positive power transfer from the motor to the revolving brush roll for many years of effective cleaning. |
| Automatic Cord Rewind | Conveniently rewind the cord for storage by pushing the foot pedal on the top of the cleaner. |
| One Year Labor Warranty by SEBO | Provides a year of peace of mind, knowing that you will not have the expense of labor to do repairs which is covered by this warranty. |
| Five Year Parts Warranty by SEBO | Provides five years of peace of mind, knowing that you will not have the expense of non-wear parts which is covered by this warranty. |
| Five Year Limited Suction Motor Warranty by SEBO | Provides additional years of peace of mind, knowing that you will not have the expense of a suction motor repair which is covered by this warranty. This reflects their confidence in this machine's excellent quality. |
---
Categories
Canisters & Power Teams

Upright Vacuums

Stick Vacuums

Central Vacuums

Bags

Filters

Belts

Light Bulbs

Hoses

Wands

Power Nozzles

Turbine Nozzles

Floor Nozzles

Dusting Brushes

Upholstery Nozzles

Crevice Tools

Special Attachments

Parts & Misc. Supplies
Types
Brands
Close panel