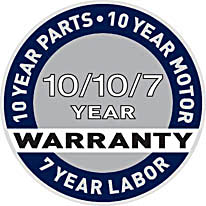 FREE 10-year Extended SEBO Vacuum Warranty:
When you purchase a SEBO "Onyx Collection" vacuum cleaner from a SEBO Authorized Dealer like Ristenbatt Vacuum, it includes SEBO's Free 10-year Extended Vacuum Warranty. This warranty covers 10 years on the motor, 10 years on all non-wear parts and 7 years on labor charges. The 10-year motor warranty also covers the brush motor on models with power nozzles. The AUTOMATIC X models include a lifetime warranty on their belts.
SEBO's Warranty Details:
The warranty only covers normal household use, commences on the date of purchase, and only applies to residents of the USA. There is no warranty coverage for commercially used vacuums and requested parts or repairs for such machines are chargeable to the customer.
For warranty purposes, please retain a copy of your original receipt. In order to register a warranty claim and obtain instructions on how to proceed, please call SEBO America at (800) 334-6614. This warranty gives you specific legal rights. You may also have other rights, which may vary from state to state.
SEBO's WARRANTY DOES NOT COVER:
Products that are second-hand, or products outside of the warranty period.
Machines that have not been assembled, used, or maintained in accordance with the operating instructions.
Machines, bags, filters, and spare parts designed or intended for use in countries other han the USA.
Defects or damage caused by the use of non-genuine SEBO parts, including but not limited to bags, filters and spare parts, or machines that have unauthorized modifications.
Defects or damage caused by service or parts provided by a Non-Authorized SEBO Dealer.
Machines in which filters have been washed and/or bags have been reused.
Typical wear and tear, accident, other casualty, misuse, neglect, improper use or maintenance, or any machine in which the serial number has been altered or removed.
Normal maintenance, such as the removal of clogs or cleaning brush rollers.
Damage caused by external sources, such as liquids, hot materials, weather or proximity to heat, e.g., fires, ovens, radiators, etc.
To download and view a PDF file of the complete text and Terms and Conditions of SEBO America's Warranties, Click Here . . .
To electronically register your SEBO vacuum cleaner, power head, DISCO Floor Polisher or duo Brush Machine, Click Here . . .
https://www.ristenbatt.com/xcart/SEBO-10-Year-Warranty.html