Sanitaire PE7025A Vacuum Cleaner Introduction
The Sanitaire brand name has been around for many years, being associated mostly with the red commercial uprights and blue heavy duty uprights made by The Eureka Company, now known as Electrolux Home Care Products North America. In more recent years the Sanitaire Precision name has been used on their special light blue canisters and electric brooms which are the same or similar to the Red Electrolux vacuum cleaners. On July 1, 2008 these vacuums changed to the Precision by Electrolux name to better communicate who is manufacturing and marketing them. The Sanitaire by Electrolux brand name will continue to be used on their commercial and professional uprights and canisters. For more information on the company name change see "The Electrolux-Eureka-Sanitaire Connection."
This Precision by Electrolux Power Team model PE7025A is an excellent example of their better vacuums which are now being imported into the USA from Europe. It boasts many deluxe features like sealed HEPA filtration, deluxe power nozzle, electric telescopic wand, powered floor nozzle, powerful 1200 watts suction motor with electronic variable speed, super quiet operation and an automatic cord reel.
Efficient Sealed System with HEPA Filtration
The sealed HEPA filter in this Precision by Electrolux model PE7025A vacuum cleaner retains 99.97% of pollens, household dust, dust mites and other allergens as small as 0.3 µm (micrometers - formerly microns) in size. This is a great help for those who suffer from dust related allergies as well as for asthma sufferers. With this series of Precision by Electrolux vacuum cleaners, the manufacturer has created a sealed HEPA filtration system which provides the assurance that all air passing through the vacuum will be cleaned by it, not bypassing the filter or leaking through joints in the case which is so common in many competing cleaners with HEPA filters.
The fanfold design of the HEPA filter provides a very large filtering surface for reduced resistance to air flow. The high filtration paper bag removes most of the dust particles before they reach the HEPA filter to enhance performance by ensuring good air flow through the system. After passing through the HEPA filter, the air is gently exhausted around the back and sides of the vacuum cleaner through a soft fabric, preventing it from blowing around the dust which is on the floor.
Effective 1400 Watts Power Team
The powerful 1200 Watts (9.0 Amps.) suction motor produces plenty of suction for cleaning all carpeted and bare floors. When used with its power nozzle it is a very effective 1440 watts (12 Amps.) power team...both in its ability to pick up dirt and allergens and in its ability to retain them. The high performance suction motor has fan parts that are aerodynamically designed with no parallel surfaces and long fan scoops compared to the typical shorter ones. These scoops are quite wide near the hub of the fan and become more narrow toward the outer edge similar to that of a jet engine compressor. This single stage "compressor design" optimizes the air flow and increases the overall motor efficiency. Featuring lifetime lubricated ball bearings and well balanced motor parts the Precision by Electrolux model PE7025A vacuum will perform quietly for many years. Since it is such a good motor the manufacturer warranties it for five years.
New Deluxe Power Nozzle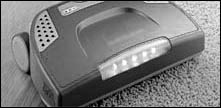 The deluxe power nozzle on these Precision vacuums has an effective 14" wide brush roll with two rows of bristles mounted on a wooden brush roll. The brushes extend close to both sides to provide excellent dual edge brushing. A reinforced banded V-belt belt is used to provide positive power transfer from the motor to the brush roll. Additional deluxe features include the large easy rolling rear wheels, foot-operated 3-position height adjustment, ball bearings in the brush roll and a long-life LED headlight. It also quickly disconnects from the wand with the touch of your toe for ease switching between the power nozzle and the powered bare floor nozzle. The LED headlight provides illumination in front of the nozzle for easier vacuuming during the evenings or in areas of reduced ambient light. (The photo of the power nozzle with the vacuum above does not reflect this new power nozzle. It is their older one which was used prior to July 1, 2008).
Deluxe Powered SP2 Floor Nozzle

In addition to a deluxe Power Nozzle for deep cleaning carpets, this Precision by Electrolux vacuum cleaner includes a deluxe Powered Floor Nozzle having its own motor and gentle revolving brush roll. Especially designed for your bare floors and low carpets, the long soft bristles efficiently sweep the dirt into this special nozzle for greatly improved bare floor cleaning. Like the power nozzle, the brush roll is driven by an electric motor using a non-slip cog type belt.
Electronic Motor Speed Control
This Precision vacuum cleaner is also equipped with an electronic motor speed control which adjusts the air flow, giving you complete control when you clean. The speed control buttons at your fingertips on the hose enable you to select between Minimum, Auto and Maximum for the proper amount of power for cleaning anything from draperies to plush carpeting. The lower suction in the Minimum speed setting prevents curtains, upholstery or area rugs from inadvertently being drawn into the cleaning nozzle.
Super "Quiet Kleen" Operation
You will find the super quiet operation of the Precision by Electrolux model PE7025A vacuum cleaner adds to the delight of using this outstanding machine. It is so quiet that you can hardly hear the main machine running, just the purr of the power nozzle agitating and cleaning the carpets. The two-fan motor produces a lower, more mellow tone than its one-fan counterpart and the addition of sound absorbing materials muffles the sound even more. No longer is there a need to yell above the noise of a vacuum cleaner to be heard.
Air Turbine Upholstery Nozzle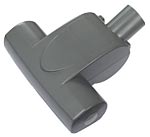 Working and cleaning like a miniature power nozzle with its turbine driven 2-row revolving brush roll, the Air Turbine Nozzle is ideal for deep cleaning upholstery, carpeted stairs, beds, etc. Experience cleaning with the strong suction from the Precision by Electrolux model PE7025A vacuum's motor combined with the brushing action of this turbine nozzle. It's much more effective than using a small hand held vacuum cleaner. You too will be excited with the convenience and performance this miniature Air Turbine Nozzle has to offer. Its like having a miniature upright in you hand.
Product Availability
This outstanding Precision by Electrolux model PE7025A vacuum cleaner is available from Ristenbatt Vacuum Cleaner Service. Accept for color, this vacuum is identical to the Electrolux Oxygen 3 Ultra Combination vacuum cleaner model EL7025A. It was formerly marketed as a Sanitaire Precision Power Team model SP7025A. This vacuum is made in Hungary and imported by Electrolux Home Care Products North America (formerly The Eureka Company). The Sanitaire PE7025A vacuums are sold exclusively through their network of independently owned vacuum cleaner specialty stores like Ristenbatt Vacuum Cleaner Service. We also promote and sell additional models of Electrolux/Precision Canisters & Power Teams, various Sanitaire Accessories & Attachments and Genuine Sanitaire Dustbags, Filters & Supplies.
Please feel free to call toll free at 800-413-2778 or 717-665-5126 for more details and information on this and additional models. All of our salespeople are also skilled technicians who are very knowledgeable about vacuum cleaners, both inside and out. They will be happy to talk with you regarding your various vacuum cleaner needs, preferences and desires. We are a vacuum cleaner specialty store providing outstanding customer service to all who purchase from us.
---
| | |
| --- | --- |
| Key Features | Major Benefits |
| Sealed HEPA Filtration System | The manufacturer is paying close attention to creating air tight seals so all the air passes through the HEPA filter to be cleaned by it. Ensures that the exhausted air is actually filtered to the HEPA specification. |
| Deluxe 14" Wide Power Nozzle | The extra cleaning width enables you to finish in less time. Active dual edge brushing is great for getting close to baseboards and furniture. The cog-type belt provides positive power transfer from its motor to the aggressive brush roll. |
| Powered Floor Nozzle | Efficiently sweeps up the dirt with its soft, gentle revolving brush roll. The cog-type belt provides positive power transfer from its motor to the brush roll. |
| Direct Connect Attachments | The electrical connections on the electric hose, wand and powerbrush automatically are made when attaching these items. There are no external cords which must be manually connected. |
| Electronic Speed Control | Enables you to select the proper amount of power for cleaning anything from draperies to plush carpeting. |
| Air Turbine Uphol. Nozzle | Cleans your upholstery and carpeted stairs like a miniature upright with its revolving brush roll. |
| Automatic Cord Rewind | Conveniently rewind the cord for storage by pushing the foot pedal on the top of the cleaner. |
| Super "Quiet Kleen" Operation | Adds to the enjoyment of using this outstanding power team. Easily talk above the sound of the vacuum cleaner. |
| Two Year Limited Warranty by the Manufacturer | Provides a year of peace of mind, knowing that you will not have the expense of a repair which is covered by this warranty. |
---
Categories
Canisters & Power Teams

Upright Vacuums

Stick Vacuums

Central Vacuums

Bags

Filters

Belts

Light Bulbs

Hoses

Wands

Power Nozzles

Turbine Nozzles

Floor Nozzles

Dusting Brushes

Upholstery Nozzles

Crevice Tools

Special Attachments

Parts & Misc. Supplies
Types
Brands
Close panel