Panasonic MC-UG585 Vacuum Cleaner Introduction
Panasonic is a leading edge company offering well designed vacuum cleaners with many advanced features. Their model MC-UG585 is an excellent example, combining style with functionality and durability to create an outstanding upright. Being part of the Performance Plus Platinum series of Panasonic vacuum cleaners, it has deluxe features that are exclusive to this series. These include a 2-fan Triforce Plus motor, extruded aluminium brush roll with durable ball bearings and three rows of replaceable bristles, metal base plate and an extra long cord. Being confident of the quality and durability of this vacuum cleaner, Panasonic warranties it for two years plus its motor for 5-years.
Durable and Efficient Clean-Air Design
A key feature which all Panasonic uprights incorporate is the clean-air system design. The air flow which picked up the dirt is cleaned by the filtering system before it passes through the fan of the suction motor. This design eliminates fan breakage problems which can be caused when objects are picked up by a dirty-air system. Also, it typically produces significantly more suction, especially when the optional hose and attachments are used. For more about these two designs, see our article on Fan or Impeller Types & Performance.
Efficient HEPA Filtration
The filtration system combines Panasonic's Teflon coated HEPA Bag and a HEPA Primary Filter to dramatically reduce recirculation of dust and allergens back into your home environment. The HEPA Bag and HEPA Primary Filter clean the air before it enters the motor, protecting it from damage. Following the motor the air is additionally cleaned by a foam exhaust filter. This multi-layer filtering system enhances the filtering ability while extending the filter media's life span.
Powerful 2-Fan, 12.0 Amp. TriForce™ Plus Motor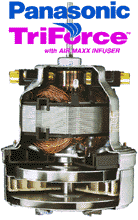 With the introduction of the TriForce™ Plus 12 amp. motor built into the Panasonic model MC-UG585 upright, Panasonic moved another step forward in the advancement of vacuum cleaner technology. It incorporates two rotating fans pulling together and a special Air Maxx infuser to produce over 30% more suction for the same amount of amperage. Located between the two spinning fans is the Air Maxx infuser which channels the air directly into the second fan. This helps ensure maximum air supply which maximizes the sealed suction produced by this special TriForce Plus motor. Two fan motors operate at lower speeds, reducing noise and extending motor life by reducing wear on the motor brushes, armature and bearings. Also incorporated into this model is a Thermal Protector which prevents the motor from overheating should the main air flow drop too low due to a blockage.
Panasonic calls this a three stage motor, counting the Air Maxx infuser as the third stage. The typical 2-fan motor has a stationary fan between the two rotating fans to direct the air flow from one to the other. The Air Maxx infuser is actually a high tech stationary fan which improves the motor's performance. This remarkable TriForce Plus motor produces high air flow and sealed suction at a low noise level for superb cleaning power. Featuring lifetime lubricated ball bearings, well balanced motor parts and a sound suppression system, it will perform quietly for many years.
See our special TriForce Feature Page for a closeup view of the TriForce motor and a more detailed description. The TriForce Plus motor is only available in this Panasonic MC-UG585 plus a few other models in the Panasonic Performance Plus Platinum series. Like most brands, all other current Panasonic uprights have only 1-fan motors.
Durable Extruded Aluminium TriForce™ Brush Roll
Panasonic has added an extra row of bristles to the brush roll to provide more aggressive brushing action for improved cleaning. Panasonic calls this durable extruded aluminium brush roll with three rows of replaceable brush strips a TriForce™ Agitator. It revolves on precision ball bearings that are designed to last the lifetime of the vacuum cleaner. By replacing only the brush strips, not the complete brush roll, maintenance costs are reduces significantly. The use of permanently lubricated ball bearings eliminates the need to replace sleeve bearings when they fail due to excessive wear.
Steel Base Plate
Another area of increased durability provided by the Panasonic MC-UG585 is in the construction of the base plate where the nozzle contacts the floor. Steel in used to reduce wear and extend the life of the base plate. Convenient slide type latches allow for easy removal for changing the belt, etc.
Automatic Carpet Height Adjustment
All Panasonic uprights have automatic carpet height adjustments. The weight of the main housing is carried on the two rear wheels, allowing the fairly light nozzle to float on the top of the carpet. This design makes them very maneuverable around furniture as well as convenient when going from one carpet to another. When the handle is moved to the vertical position for using the attachments, the agitator is automatically raised out of the carpet nap. This is helpful as well when you want to pause a moment to move a piece of furniture without turning off the cleaner.
Outstanding Warranty
Panasonic provides two years of peace of mind, knowing that you will not have the expense of a repair which is covered by their standard Two Year Limited Warranty. In addition to this, they also provide a Five Year Limited Suction Motor Warranty with all Panasonic model MC-UG585 vacuum cleaners which are purchased for normal household use. This provides three additional years of peace of mind, knowing that you will not have the expense of a repair which is covered by this motor warranty. This also reflects Panasonic's confidence in this machine's excellent quality.
Product Availability
The Panasonic MC-UG585 Performance Plus Platinum Series vacuum cleaners are sold only through their network of independently owned vacuum cleaner specialty stores like Ristenbatt Vacuum Cleaner Service. We also promote and sell additional models of Panasonic Upright Vacuums, various Panasonic Accessories & Attachments and Genuine Panasonic Dustbags, Filters & Supplies.
Please feel free to call toll free at 800-413-2778 or 717-665-5126 for more details and information on this and additional models. All of our salespeople are also skilled technicians who are very knowledgeable about vacuum cleaners, both inside and out. They will be happy to talk with you regarding your various vacuum cleaner needs, preferences and desires. We are a vacuum cleaner specialty store providing outstanding customer service to all who purchase from us.
---
| | |
| --- | --- |
| Key Features | Major Benefits |
| Clean-Air Design | Automatically protects the suction motor while allowing for quieter operation. Also produces significantly more suction, especially when the optional hose and attachments are used. |
| HEPA Filtration System | The HEPA Bag and HEPA Type Primary Filter greatly reduce recirculation of dust and allergens back into your home. |
| 2-Fan, 12.0 Amp TriForce Plus Motor | Produces higher suction and higher air flow at a reduced noise level. Produces over 30% more suction for the same amperage rating. This is the maximum permitted amperage for UL Approval of an upright vacuum cleaner. |
| 3-Row TriForce Agitator | The additional row of bristles provides more aggressive brushing action for improved deep cleaning of carpeted floors. |
| Extruded Aluminium Agitator with Ball Bearings | Reduces maintenance costs over the lifetime of the vacuum cleaner. Replaceable brush strips eliminate the need to replace the complete brush roll when they wear short. |
| Steel Base Plate | Reduces wear and extends base plate life. Easily removable for access to brush roll and belt. |
| Automatic Carpet Height Adjustment | Move easily from one carpet to another. Convenient for moving furniture without stopping the motor. |
| Thermal Protector | Prevents the motor from overheating should the main air flow drop too low due to a blockage. |
| Bright Headlight | Clean easily in low light conditions during evenings, etc. |
| Long 30' Cord | Travel far with the vacuum cleaner without needing to stop and change the cord to another electrical outlet. |
| Full Bag Indicator | Know when to change the paper bag for improved efficiency. |
| Two Year Limited Warranty by Panasonic | Provides two years of peace of mind, knowing that you will not have the expense of a repair which is covered by this warranty. |
| Five Year Limited Suction Motor Warranty by Panasonic | Provides three additional years of peace of mind, knowing that you will not have the expense of a suction motor repair which is covered by this warranty. This warranty also covers the cost of labor to replace or repair the suction motor. This reflects Panasonic's outstanding confidence in this machine's excellent quality. |
---
Categories
Canisters & Power Teams

Upright Vacuums

Stick Vacuums

Central Vacuums

Bags

Filters

Belts

Light Bulbs

Hoses

Wands

Power Nozzles

Turbine Nozzles

Floor Nozzles

Dusting Brushes

Upholstery Nozzles

Crevice Tools

Special Attachments

Parts & Misc. Supplies
Types
Brands
Close panel