Miele Swing Vacuum Cleaner Introduction

Miele has been designing and manufacturing products for the home since 1899. They produced their first vacuum cleaner in 1927 and celebrated their 100th Anniversary in June of 1999. Their products are world renowned for their power, durability and performance. The introduction of the Miele Swing upright vacuum, with its beautiful Steel Blue Metallic finish, reflects their commitment to designing and manufacturing outstanding vacuum cleaners. As with all Miele products, all its advanced technology and incredible power is harnessed within a truly beautiful work of art. You may even be tempted to purchase a Miele S7580 Swing S7 upright vacuum cleaner on its looks alone.
While continuing the strong Miele tradition of quality, design, beauty and outstanding performance, the new Miele S7 series upright vacuums, like the Miele Swing, take Miele's beauty and technology to an even higher level. New innovative features include the Swivel-Neck™ for easy, more natural steering, low weight distribution for lighter handling, a super-long 12' stretch hose plus the use of the same powerful Miele Vortex suction motor for which their canister vacuums are so well known and a separate 4,800 RPM electric motor which drives the revolving brush roll. The soft-touch plus and minus motor power selection buttons plus Intelligent Automatic Power Setting on the Miele Swing model S7580 upright make it even more user friendly.
SwivelNeck™ Enables Easy Steering
When designing the new S7 Series uprights, Miele desired to provide them with maximum agility so you can easily reach into more areas in your home. To do this, they designed a unique SwivelNeck™ at the bottom of the vertical body. This enables you to easily steer the vacuum by twisting the handle and vertical body from side to side. As you do this, the base with cleaning nozzle pivots from side to side, guiding the vacuum toward the desired direction. Small, soft wheels located just behind the nozzle opening can pivot 360°, enabling the vacuum to turn easily. These unique steering actions are fluid, natural and almost effortless by you.
Automatic Height Adjustment
The small, soft wheels mentioned above ensure that the nozzle rides just above bare floors when cleaning them. Wide, soft wheels located near the back of the base tuck in underneath it when the handle is lowered, contributing to the vacuum's automatic height adjustment by making the front lighter so it rides near the top of the carpet. Adding to this is a special brush roll floating mechanism which enables the roll to automatically raise and lower within the cleaning nozzle to better match the height of the carpet being cleaned.
Powerful 2-Motor Cleaning System
Miele designed their new S7 series uprights from the ground up, investing a number of years into research and development. A strong emphasis was to create an upright design which will provide outstanding performance on all heights of carpets as well as on bare floors in the same way as their world renowned canister vacuums with powerbrushes. Like them, these uprights are designed with two powerful motors, the Miele Vortex suction motor plus a new 4,800 RPM motor to drive the full size 12 1/4" revolving brush roll. A non-slip cog type belt provides positive power transfer from the brush motor to the brush roll. This special type of belt is reinforced so can not stretch nor slip. It enables consistent brushing action from month after month.
By incorporating two motors into the powerful Miele Swing upright vacuum, performance is improved on both carpets and bare floors. Since the suction motor produces the air flow that picks up the dirt and debris, it is not affected by the load produced on the brush roll by the carpet being cleaned. Also, a switch on the handle enables you to stop the brush motor and brush roll when cleaning bare floors so the dirt and grit are not whipped back by it before the air flow has a chance to pick it up. A squeege located behind the brush roll opening also aids in performance when cleaning bare floors.
Efficient Miele Vortex Suction Motor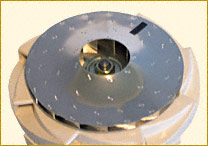 The powerful 1200 Watt, Miele Vortex suction motor produces plenty of suction for cleaning all carpeted and bare floors plus above-the-floor cleaning with the on-board attachments. A separate 4,800 RPM electric motor drives the revolving brush roll when cleaning carpets. As such this Miele Swing is a very effective 1440 watt (12 Amps.) upright...both in its ability to pick up dirt and allergens and in its ability to retain them. This high performance motor has fan parts that are aerodynamically designed with no parallel surfaces and nine long fan scoops compared to the typical six shorter ones. These scoops are quite wide near the hub of the fan and become more narrow toward the outer edge similar to that of a jet engine compressor. This single stage "compressor design" optimizes the air flow and increases the overall motor efficiency. Featuring lifetime lubricated ball bearings, well balanced motor parts, enhanced motor suspension and lining of the motor housing, the Miele Swing upright vacuum will perform quietly for many years. Due to its typical life expectancy of 1200 hours, Miele proudly warranties this motor for seven years. To learn more about this outstanding motor, see our article on the Powerful Miele Vortex Motor.
Convenient Electronic Motor Power Control
The S7580 Swing vacuum is also equipped with six different motor power settings which adjusts the air flow, giving you complete control when you clean. The plus and minus electronic power control buttons and LED indicator bar on the vacuum enables you to easily select the proper amount of power for cleaning anything from draperies to plush carpeting. Reducing the suction prevents curtains, upholstery or area rugs from inadvertently being drawn into the cleaning nozzle. The Miele Swing vacuum also has the Intelligent Automatic Power Level setting which electronically adjusts the power level to suit the surface currently being cleaned and ensures the most economical use of energy.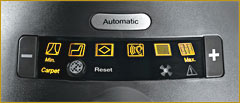 This Miele vacuum, along with others in the new Miele S5 series, has special sound insulation which makes it particularly quiet. The special "Silence Setting" combines the lowest noise level with the ideal power level for the most efficient cleaning results. When operating at this level the vacuum is actually quieter than a pot of boiling water. Now that is quiet!
Multi-Layer Filtration System
The Miele Swing vacuum cleaner uses a multi-layer filtration system which increases the life of the high filtration exhaust filter. The air passes through their high filtration AirClean Bag and a secondary electrostatic filter before reaching the special exhaust filter. Each layer of filtration captures more particles as the air passes through them. Ideally, multi-layer filtration enhances performance by ensuring good air flow through the system. It prevents large particles from reaching and blocking the exhaust filter, saving it for critical particle retention.
The Miele Swing upright vacuums come equipped with their HEPA AirClean Exhaust Filter for exceptional allergen filtration. A lower cost alternative is the Super AirClean exhaust filter which is packaged with the dustbags. It is designed for those desiring good filtration but who do not have dust related sensitivities which require the level of filtration which meets the stringent HEPA 13 specification. You will need to order the optional Filter Holder #06803180 to use the Super AirClean filter in this vacuum.
The Miele Sealed System™
Using the Miele Swing upright vacuum model S7580 differs from your typical home vacuum cleaner because of its special high filtration capabilities and its Sealed System™. This means that the sub-micrometer dust you pick up actually reaches the high filtration exhaust filter and is not blown out through minute cracks in the case or around the exhaust filter like many competing cleaners with high filtration exhaust filters. To protect you even more the dustbag is designed to automatically close its opening as you remove it from the vacuum for disposal.
Vacuum cleaners are designed so that air flows through the nozzle and hose into the dustbag, and then through any additional filters before leaving the machine at the exhaust. Filters capable of achieving sub-micrometer filtration are important but equally important is how much of the air flow containing these allergens, etc. actually passes through the filters to be cleaned by them. With the Miele Sealed System™ you can rest assured that all the air flow passes through and is filtered by the included Active Certified HEPA exhaust filter. Having a completely sealed system also helps improve suction by ensuring that all air flow through the motor is also pulled through the hose and attachments, not entering through unsealed joints in the case, wands and attachments.
High Performance AirClean™ Dustbag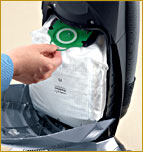 Miele's revolutionary new AirClean™ dustbag offers unbeatable advantages which really enhance the performance of the Miele Swing upright vacuum cleaner. First and foremost, the unique new material which composes AirClean dustbags has made significant progress in the quality of filtration: Thanks to its intricate web of three-ply random-spun polymer fibers, far more tiny particles and allergens are retained than with conventional dustbags. This alone accounts for a reduction in dust emissions from the dustbag of up to 50%, based on levels which were already extremely low. Therefore, this vacuum's secondary filter and high efficiency exhaust filter will be kept cleaner, providing outstanding cleaning performance with reduced resistance to the air flow. A spring loaded door on the bag collar closes automatically as you remove the bag, reducing the risk of dust puffing up into your face.
The enhanced composition of AirClean virtually eliminates clogging, improving cleaning performance even further. This material captures millions of tiny dust particles and holds them tight within its fibers, keeping the pores of the dustbag open longer. As a result, this Miele vacuum cleaner retains its excellent cleaning performance, even when the dustbag is full. This special polymer material also makes the dustbag practically tear-proof. The risk of damage caused by sharp, pointed objects in the bag is now a thing of the past.
High Efficiency Filters

For those with dust related allergies or asthma, Miele has included an HEPA AirClean Filter that meets the stringent HEPA 13 specification. It has been proven to retain over 99.99% of dust particles. It only needs to be replaced approximately once a year. A special "Timestrip" provides a visual indication of when the filter should be replaced. Packaged in a white case, the SF-HA 30 HEPA AirClean filter takes clean air to an even higher level. It replaces the former SF-AH 30 HEPA filter in a light blue case which meets the "HEPA 12" specification.

Miele even offers an optional special filter designed for the pet lovers in our world. Their Active AirClean Filter features a thick layer of Activated Charcoal for outstanding odor trapping abilities. It's great for cat & dog owners to use instead of the HEPA filter. When purchasing your new Miele from Ristenbatt Vacuum Cleaner Service, turn it into an allergy vacuum with very low dust and odor emissions by adding the Active AirClean filter for only $45.99. Only one of exhaust filter can be used at a time.
Convenient Attachment Storage
The Miele S7580 Swing vacuum carries its three small attachments conveniently tucked into the back of the vacuum where they are always easily accessible. This design reduces the risk of bumping these attachments, accidentally knocking them from the vacuum cleaner. The dusting brush has soft, natural hair bristles which will not curl and mat like synthetic ones tend to do. The upholstery nozzle has two red strips which are like the "magic lint brushes", capturing the lint, hairs and threads and then cleaning themselves on the reverse stroke. Even the 12" crevice tool is special, being longer than on most other vacuums. A ultra light (6.6 oz.) aluminum telescopic wand is attached to the on-board hose, enabling you to easily reach those hard to reach areas. The long 12' hose is attached near the bottom of the vacuum, providing much more stability than most upright vacuums when using the attachments.
Special Attachments Bonus
Starting in August of 2010, Miele includes the following special attachments to enhance your cleaning experience with this deluxe Miele S7 upright vacuum. If purchased separately these special attachments would cost over $100.00.

The Miele MicroSet includes four attachments that are especially designed for cleaning delicate items and collectibles throughout your house. Based around the Micro Hose with its combination crevice tool/dusting brush, this set extends its use by including an Extension Crevice Tool, Extension Dusting Brush and Angled Crevice Nozzle. All MicroSet attachments are store conveniently in an attractive carrying case.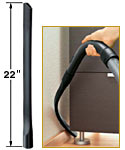 Also included with this outstanding S7 upright vacuum Miele's extra-long 22" Flexible Crevice Tool #SFD 20. Its unique construction consists of a long soft vinyl center section with rigid high impact ends, making it quite durable yet flexible. This crevice tool is great for reaching under refrigerators, behind old fashioned radiators and other hard to reach areas.
Additional Deluxe Features

The Miele S7580 Swing vacuum is designed with many deluxe features. These include a safty shut-off if overheated, a dust bag change indicator, bag lid safety lockout when no bag is installed, attached bag chamber lid with safety releases, convenient hose handle, ergonomic handle grip with built-in cord wrap hook, quick-release lower cord hook and bright, long-life LED headlights.
One-Year Limited Product Warranty
Miele provides a year of peace of mind, knowing that you will not have the expense of a repair which is covered by their standard One Year Limited Warranty. This limited warranty are reduced to six months if the vacuum cleaner is used for commercial purposes.
Outstanding 7-Year Motor and Casing Warranties
Miele is so confident in the durability of their unique Vortex motor that they cover it with their long Miele Seven-Year Limited Motor Warranty. Also, their vacuums are so well designed and constructed that they proudly include their Seven-Year Limited Casing Warranty with this vacuum. These extra-long waranties provide six additional years of peace of mind, knowing that you will not have the expense of a repair covered by them. These limited warranties are reduced to six months if the vacuum cleaner is used for commercial purposes.
Product Availability
The Miele model S7580 Swing vacuum cleaners are made in Germany and sold in the U.S.A. primarily through their network of independently owned vacuum cleaner specialty stores like Ristenbatt Vacuum Cleaner Service. We also promote and sell additional models of Miele Upright Vacuum Cleaners, various Miele Accessories & Attachments and Genuine Miele Dustbags, Filters & Supplies.
Please feel free to call toll free at 800-413-2778 or 717-665-5126 for more details and information on this and additional models. All of our salespeople are also skilled technicians who are very knowledgeable about vacuum cleaners, both inside and out. They will be happy to talk with you regarding your various vacuum cleaner needs, preferences and desires. We are a vacuum cleaner specialty store providing outstanding customer service to all who purchase from us.
---
| | |
| --- | --- |
| Key Features | Major Benefits |
| SwivelNeck™ Enables Easy Steering | You can easily steer this vacuum by simply twisting the handle from side to side. This action is fluid and natural and enables you to reach into otherwise inaccessible areas. |
| Automatic Carpet Height Adjustment | Move easily from one carpet to another. There is no need to guess and hope that you have selected the right height for each carpet. |
| Powerful 2-motor System | This provides for more consistent air flow plus the ability to stop the brush roll when cleaning bare floors. Cleaning on both types of floors is enhanced. |
| 1200 Watt Miele Vortex Suction Motor | Delivers high air flow rates for very effective cleaning. It is not affected by the load on the brush roll. Extra long life expectancy of 1200 hours exceeds most industrial motors. |
| Electronic Power Control | Enables you to easily select the proper amount of power for cleaning anything from draperies to plush carpeting. Plus and minus power selection buttons and the LED speed indicator lights on the vacuum show the power level at a glance. |
| Completely Sealed System | Ensures that all air flow through the system reaches the high filtration exhaust filter. It also improves the cleaning performance since all air flow passes through the hose and attachments as well. |
| Multi-Layer Filtration System | Each layer captures more particles, providing longer life and better performance of the exhaust filter. |
| Includes HEPA AirClean Exhaust Filter | The SF-HA 30 HEPA AirClean filter meets the stringent "HEPA 13" specification. It has been proven to retain over 99.99% of dust particles. |
| Optional Active Air Clean Exhaust Filter | Features a thick layer of Activated Charcoal sandwiched between two electrostatic filters for outstanding odor trapping abilities. It's great for cat & dog owners. (Only one exhaust filter can be used at a time.) |
| Recessed Attachment Storage | Carries its three small attachments conveniently tucked away in the back of the vacuum where they are always easily accessible. Also included is a light weight telescopic wand. |
| One Year Limited Warranty | Miele's 1-year warranty provides one year of peace of mind, knowing that you will not have the expense of a repair which is covered by this warranty. |
| Outstanding Seven-Year Limited Warranties | Miele provides six additional years of peace of mind, knowing that you will not have the expense of a suction motor or vacuum casing repair which is covered by their 7-Year Limited Warranties. This also reflects their confidence in this machine's excellent quality. |
---
Categories
Canisters & Power Teams

Upright Vacuums

Stick Vacuums

Central Vacuums

Bags

Filters

Belts

Light Bulbs

Hoses

Wands

Power Nozzles

Turbine Nozzles

Floor Nozzles

Dusting Brushes

Upholstery Nozzles

Crevice Tools

Special Attachments

Parts & Misc. Supplies
Types
Brands
Close panel