Miele HX1 Graphite Grey Cordless Stick Vacuum
Optional Accessories and Supplies for the
Miele HX1 Graphite Grey Cordless Stick Vacuum
Miele SEB 23 Compact Electrobrush for Triflex Stick
This Miele SEB 23 Compact Electrobrush greatly enhances a Triflex Stick vacuum's ability to remove pet hair and other debris from your furniture and carpeted stairs. It typically is attached directly to the PowerUnit although it can also attach to the electric wand.

Like the floor nozzle, the revolving brush roll is motor driven using a cog type belt for positive power transfer. The belt is located near the center, enabling close brushing on both sides of the nozzle. Being manufactured in Germany like the main HX1 Stick vacuum, it is a very durable unit that should provide many years of outstanding cleaning performance in your home. This Electrobrush is also know as part #11384950.
Ristenbatt Price:
$146.00
Code: SEB 23 &nbsp &nbsp Mfg. Code: HX-SEB 23
Black Stretch Hose to fit Miele Triflex Stick Vacuums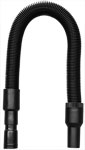 This very flexible 35mm Black Stretch Hose to fit Miele Triflex Stick vacuums provides a great amount of ease and agility when using the small attachments to clean furniture and stairs. When relaxed the hose is 30" long although it extends to 50" when fully stretched. While not made by Miele, it is designed to work well with their vacuums and attachments.
Code: Hose-for-Triflex
Universal Dusting Brush w/Swivel #SUB 20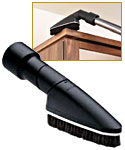 This new Miele Dusting Brush with Swivel #SUB 20 is great for cleaning all hard surfaces including ledges and cabinet tops. Its long sleek design enables it to cover larger areas with a sideways sweeping motion. The tapered area with bristles is 2" wide and 6" long with 7/8" long, soft bristles. The main body is flexible vinyl so it is like having a bumper all over it to protect your furniture.
Code: SUB 20 &nbsp &nbsp Mfg. Code: SUB 20
Miele 22" Flexible Crevice Tool #SFD 20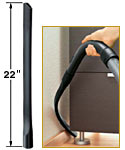 This extra-long Genuine Miele 22" Flexible Crevice Tool #SFD 20 is designed for use on Miele hoses and wands where the attachments fit over them. The unique construction consists of a long soft vinyl center section with rigid high impact ends, making it quite durable yet flexible. This crevice tool is great for reaching under refrigerators, behind old fashioned radiators and other hard to reach areas. Purchase Miele's Radiator Brush for more efficient cleaning of radiators, etc.
Code: SFD 20 &nbsp &nbsp Mfg. Code: SFD 20
Radiator Brush #SHB 30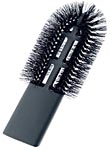 This Miele radiator brush is designed to attach to the end of the Miele 22" Flexible Crevice Tool for cleaning the old fashioned radiators. It also fits on all Miele crevice tools. It extends the reach by about 5" and adds brushing action with a 1" diameter "bottle brush" which wraps around its tip.
Code: SHB 30 &nbsp &nbsp Mfg. Code: 09660490
Generic European 35mm Plastic Extension Wand
Easily extend the reach of your Miele attachments by 18" for those extra high ceilings, fans, etc. More than one wand can be used to extend your reach even farther. This lightweight 19" wand is constructed of high impact ABS Plastics, making it very light weight and durable. It is not made by Miele but is designed to friction fit perfectly onto the Miele hoses and wands as well as their smaller attachments.
Code: 32-1940-99
Plastic European to 1 1/4" Tool Adapter
This plastic 4" long attachment adapter fits on European 35mm size hoses and wands to enable the use of standard USA 1 1/4" attachments. These include attachments on Shop-Vac, Eureka, many Electrolux models and some Hoover uprights plus various other USA brands. You will find a number of attachments for use with this adapter described on our Attachments to fit American Standard Size Vacuums page.
Code: 34663
Miele HX-LS Battery Charging Cradle for HX1 Stick Vacuums

This deluxe Miele HX-LS Charging Cradle with Charger is designed for use with their removable HX-LA Lithium-Ion Batteries used on the HX1 Stick Vacuums. Top mounted indicator lights show the charging status. It automatically waits until a battery that is warm from being used cools sufficiently before starting the recharging process. This is a better process than simply plugging the charger into the battery without the cradle. This charging cradle is also known as part #11607500.

This battery cradle with charger is not available until December 15, 2020.
Ristenbatt Price:
$132.00
Code: HX-LS &nbsp &nbsp Mfg. Code: HX-LS
Miele HX-LA Lithium-Ion Battery for HX1 Stick Vacuums

This durable rechargeable 2500mAh (2.5 amp hours) lithium-ion battery provides sufficient power for up to 60 minutes of Triflex Stick vacuum run time. Rated at 25.2 Volts, it provides the punch needed for Miele's powerful Vortex motor to supply the suction and air flow required for this vacuum's high performance. This battery is also known as part #11384710.

This battery is not available until September 8, 2020. Double the total run time by purchasing this battery with the Triflex Stick vacuum shown above.
Ristenbatt Price:
$210.00
Code: HX-LA &nbsp &nbsp Mfg. Code: HX-LA
HX-FSF Fine Dust Filter for Miele HX1 Stick Vacuum Cleaner
This fanfold Fine Dust Filter is used in all Miele HX1 Stick vacuum cleaners to clean the air before it passes through the motor. The large area enables strong air flow without the need for frequent cleaning. It is located inside the vacuum's Vortex cyclonic chamber. This filter is also know by number 11385020.
Code: HX-FSF &nbsp &nbsp Mfg. Code: HX-FSF
https://www.ristenbatt.com/xcart/Miele-HX1-Graphite-Grey-Stick-Vacuum.html