Miele Diamond Dealer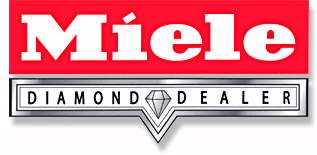 While all Authorized Miele Dealers exemplify the spirit of Miele's founding fathers, "Immer Besser" (translated: "Forever Better"), Miele has a particular group of retailers who stand out with an even greater brilliance.
These Miele Diamond Dealers are dedicated to achieving excellence through their continued support and loyalty to their customers and are rewarded with a unique and exclusive assortment of Miele vacuum cleaners that are sure to appeal to you. They also receive special customer service and sales training, empowering them to better serve the needs of their customers. These special models and training enhance their ability to recommend the best vacuum for their customer's unique needs and preferences.
Ristenbatt Vacuum Cleaner Service, Inc. is proud to be among the first group of Authorized Miele Dealers who qualified as Miele Diamond Dealers. We are excited about Miele's new Diamond Dealer models as well as the additional dealer training which Miele is providing. Miele's move in this direction underlines their outstanding desire and drive to provide the best products and customer service available in the industry. They continue to deliver on their promise of "Immer Besser."
---
Categories
Canisters & Power Teams

Upright Vacuums

Stick Vacuums

Central Vacuums

Bags

Filters

Belts

Light Bulbs

Hoses

Wands

Power Nozzles

Turbine Nozzles

Floor Nozzles

Dusting Brushes

Upholstery Nozzles

Crevice Tools

Special Attachments

Parts & Misc. Supplies
Types
Brands
Close panel