This page describes the Miele S4210 Antares Canister which always includes their STB 205-3 Turbobrush and SBB 300-3 Parquet Floor Brush.
Miele Antares Vacuum Cleaner Introduction

Miele has been designing and manufacturing products for the home since 1899. They produced their first vacuum cleaner in 1927. Their products are world renowned for their power, durability and performance. They pay a lot of attention to many little details as well as the overall picture, enabling them to create vacuums which are very user friendly and durable. With the introduction of the S4 Galaxy series, Miele has successfully incorporated many of the outstanding features of their midsize and fullsize canister vacuums into a much smaller and lighter vacuum. With the vacuum itself weighing in at only 10 pounds, you will really appreciate the ease of use without sacrificing the performance and durability for which Miele is so well know. As with all Miele products, all this vacuum's advanced technology and incredible power is harnessed within a truly beautiful work of art. You may even be tempted to purchase a Miele S4210 Antares Galaxy Vacuum on its looks alone.
Multi-Layer Filtration System
The Miele S4210 Antares uses a multi-layer filtration system which increases the life of the high filtration exhaust filter. The air passes through their high filtration 3-Layer HyClean Bag and a secondary electrostatic filter before reaching the special exhaust filter. Each layer of filtration captures more particles as the air passes through them. Ideally, multi-layer filtration enhances performance by ensuring good air flow through the system. It prevents large particles from reaching and blocking the exhaust filter, saving it for critical particle retention.
The Miele Antares canister vacuum cleaner comes standard with their Super Air Clean exhaust filter for those desiring outstanding filtration but who do not have dust related sensitivities which require the level of filtration which meets the stringent HEPA specification.
In a study conducted by the Department of Medicine, Division of Allergy and Clinical Immunology at the University of Virginia, the Miele vacuum cleaner with the Super Air Clean filter was tested, along with eight other leading brands, to determine if vacuum cleaner efficiency affects the level of airborne allergens commonly found in the home, such as pet dander and dust mite feces. The results indicate that some vacuum cleaners substantially increase allergens in the air. The study proved Miele captures virtually all the dust, dirt and allergens you pick up, improving the quality of the air you breathe. Newer optional Certified HEPA filters provide even greater filtration, producing net filtration which meets the stringent HEPA specification.
The Miele Sealed System™
Using the Miele S4210 Antares canister vacuum differs from your typical home vacuum cleaner because of its special high filtration capabilities and its Sealed System™. This means that the sub-micrometer dust you pick up actually reaches the high filtration exhaust filter and is not blown out through minute cracks in the case or around the exhaust filter like many competing cleaners with high filtration exhaust filters. To protect you even more the dustbag is designed to automatically close its opening when you remove it from the vacuum for disposal. Taking this concept even further, an optional Miele Hygiene Cap can be snapped into the hose inlet of this vacuum when the hose is removed. This added protection enhances the ability of this Miele vacuum to provide extremely low dust emissions.
Vacuum cleaners are designed so that air flows through the nozzle and hose into the dustbag, and then through any additional filters before leaving the machine at the exhaust. Filters capable of achieving sub-micrometer filtration are important but equally important is how much of the air flow containing these allergens, etc. actually passes through the filters to be cleaned by them. With the Miele Sealed System™ you can rest assured that all the air flow passes through and is filtered by the Super Air Clean or optional Active Certified HEPA or Active Air Clean exhaust filters. Having a completely sealed system also helps improve suction by ensuring that all air flow through the motor is also pulled through the hose and attachments, not entering through unsealed joints in the case, wands and attachments.
High Performance HyClean™ Dustbag
Miele's revolutionary new HyClean™ dustbag offers unbeatable advantages which really enhance the performance of the Miele S4210 Antares canister vacuum cleaner. First and foremost, the unique new material which composes HyClean dustbags has made significant progress in the quality of filtration: Thanks to its intricate web of three-ply random-spun polymer fibers, far more tiny particles and allergens are retained than with conventional dustbags. This alone accounts for a reduction in dust emissions from the dustbag of up to 50%, based on levels which were already extremely low. Therefore, this vacuum's secondary filter and high efficiency exhaust filter will be kept cleaner, providing outstanding cleaning performance with reduced resistance to the air flow.
The enhanced composition of HyClean virtually eliminates clogging, improving cleaning performance even further. This material captures millions of tiny dust particles and holds them tight within its fibers, keeping the pores of the dustbag open longer. As a result, this Miele vacuum cleaner retains its excellent cleaning performance, even when the dustbag is full. This special polymer material also makes the dustbag practically tear-proof. The risk of damage caused by sharp, pointed objects in the bag is now a thing of the past.
Optional High Efficiency Filters

For those with dust related allergies or asthma, Miele has an optional Active Certified HEPA Filter which is tested and certified that it will meet the stringent HEPA specification. It will retain all particles as small as 0.3 µm (micrometers - formerly microns) in size with an efficiency rating of 99.97%. The HEPA acronym is used primarily in the USA whereas Europeans often refer to this same filter as an S-Class filter. This indicates that the filter meets standards like the British Standard 5415 and German norm: DIN 2418B Ti-E EU 13 for filtration performance. Miele's Active Certified HEPA Filter even includes a thin layer of Activated Charcoal for trapping unpleasant odors as well. When purchasing your new Miele from Ristenbatt Vacuum Cleaner Service, turn it into an outstanding allergy vacuum with extremely low dust emissions by adding the Active Certified HEPA filter for only $49.95.

Miele even has a special filter designed for the pet lovers in our world. Their Active Air Clean Filter features a thick layer of Activated Charcoal sandwiched between two Super Air Clean filters for outstanding odor trapping abilities. It's great for cat & dog owners. When purchasing your new Miele from Ristenbatt Vacuum Cleaner Service, turn it into an allergy vacuum with very low dust and odor emissions by adding the Active Air Clean filter for only $39.95.
The optional Active Certified HEPA Filter or the Active Air Clean Filter can be used instead of the Super Air Clean exhaust filter which comes standard in all Miele S4 Galaxy series canister vacuums. The Super Air Clean filter removes nearly 94% of particles as small as 0.3 µm, providing very clean exhausted air for those who don't have special filtration needs.
Complete HEPA Certified Vacuum Cleaner System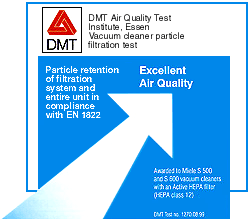 The Miele S4210 Antares canister vacuum, when used with a Certified HEPA filter, joins other Miele vacuums — which were the world's first to receive this certificate — with a top rating of "excellant air quality". People especially concerned with indoor-air quality will be pleased to know that the filtration system with the optional Certified HEPA filter in the Miele S4210 Antares vacuum was tested by the DMT Air Quality Test Institute and certified that it is in compliance with the stringent EN 1822 standard.
By testing the particle retention of the entire unit's filtration system it is one of the world's most stringent filtration standards. Much to Miele's delight, virtually all particulate matter was contained within the vacuum cleaner system in the earlier Miele S500 and S600 series canisters, earning them the world's first certificate of HEPA certification. By incorporating this same system, the Miele Antares vacuum, when combining the optional Certified HEPA Filter with their completely sealed system, provides the lowest vacuum cleaner dust emissions available for your home environment.
Efficient Miele Vortex Suction Motor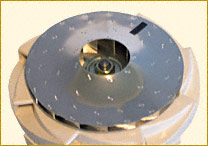 The powerful 1200 Watt, Miele Vortex suction motor produces plenty of suction for cleaning your home. This high performance motor has fan parts that are aerodynamically designed with no parallel surfaces and nine long fan scoops compared to the typical six shorter ones. These scoops are quite wide near the hub of the fan and become more narrow toward the outer edge similar to that of a jet engine compressor. This single stage "compressor design" optimizes the air flow and increases the overall motor efficiency. Featuring lifetime lubricated ball bearings, well balanced motor parts, enhanced motor suspension and lining of the motor housing, the Miele Antares vacuum will perform quietly for many years. Due to its typical life expectancy of 1200 hours, Miele proudly warranties this motor for seven years. To learn more about this outstanding motor, see our article on the Powerful Miele Vortex Motor.
Electronic Motor Speed Control
This Miele S4210 Antares canister vacuum cleaner is also equipped with an electronic motor speed control which adjusts the air flow to over 150 CFM, giving you complete control when you clean. The speed control dial, which is completely variable with six click stops (six stage), enables you to select the proper amount of power for cleaning anything from draperies to carpets. Reducing the suction prevents curtains, upholstery or area rugs from inadvertently being drawn into the cleaning nozzle.
Option to Upgrade to the Deluxe Hose Handle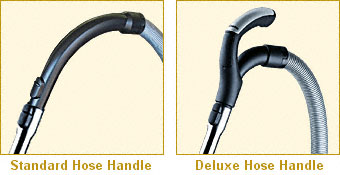 When purchasing your new Miele Antares vacuum from Ristenbatt Vacuum, make it even more user friendly by upgrading to Miele's Deluxe Hose Handle. The thinner handle located above the hose makes it easier to hold, especially for smaller hands. Its soft top grip and the way it lays nicely in your hand make it even more comfortable. With the hose attached closer to the wand or cleaning nozzle this Deluxe Hose Handle provides superior flexability which you'll really appreciate when working in fairly tight areas. A slight swivel built into the handle enhances its maneuverability as well.
The special upgrade price of $44.95 is only available at the time when you purchase this vacuum. Check this option's box on the vacuum cleaner's order form to receive the special upgrade price. If purchased separately the Deluxe Hose Handle would sell for $79.95.
Versatile Stainless Steel Telescopic Wand
The stainless steel telescopic wand on the Antares S4210 vacuum cleaners can be adjusted to match your individual stature. The Miele S200i and S300i series have individual, fixed length steel wands instead of this more versatile telescopic wand. For storage, it collapses to about half height to save storage space. It is well sealed at all joints to maintain Miele's outstanding performance. This is a good example of how Miele goes to great lengths, even with small details, to ensure the quality, performance and beauty of their products.
All Three Wheels Swivel 360°
This Miele vacuum cleaner is designed to track nicely behind you as you pull it by the hose. It is equipped with three wheels which turn a full 360° making it very easy to maneuver and very stable. Going over electrical cords, door thresholds and around furniture is a breeze. Since it can be moved in any direction, being able to easily push it out of your path when working near the machine is an added convenience.
Air Driven Turbobrush for Carpets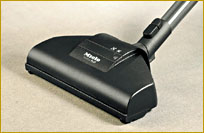 The Miele S4210 Antares canister comes complete with the Miele STB 205-3 Turbobrush for deep cleaning low or medium nap carpets. It incorporates a turbine to obtain its power to drive the 10 1/2" wide revolving brush roll from the air flow passing through the system. By doing so, it is drawing power from the main suction motor, actually reducing the air flow through the system. A cog type belt is used to provide positive power transfer from the turbine to the brush roll. Since this nozzle does not require electric to operate, it can be used on the standard non-electric hose.
Outstanding Warranties
Miele provides a year of peace of mind, knowing that you will not have the expense of a repair which is covered by their standard One Year Limited Warranty. In addition to this, the Miele Seven Year Limited Motor Warranty provides six additional years of peace of mind, knowing that you will not have the expense of a suction motor repair which is covered by this warranty. These limited warranties are reduced to six months if the vacuum cleaner is used for commercial purposes.
Product Availability
The Miele S4210 Antares canister vacuum cleaners are made in Germany and sold in the U.S.A. primarily through their network of independently owned vacuum cleaner specialty stores like Ristenbatt Vacuum Cleaner Service.

We also promote and sell additional models of
Miele Canisters & Power Teams
, various
Miele Accessories & Attachments
and
Genuine Miele Dustbags, Filters & Supplies
.
Please feel free to call toll free at 800-413-2778 or 717-665-5126 for more details and information on this and additional models. All of our salespeople are also skilled technicians who are very knowledgeable about vacuum cleaners, both inside and out. They will be happy to talk with you regarding your various vacuum cleaner needs, preferences and desires. We are a vacuum cleaner specialty store providing outstanding customer service to all who purchase from us.
This page describes the Miele S4210 Antares Canister which always includes their STB 205-3 Turbobrush and SBB 300-3 Parquet Floor Brush.
---
| | |
| --- | --- |
| Key Features | Major Benefits |
| Small, Light Weight Vacuum | With the vacuum itself weighing in at only 10 pounds, you will really appreciate the ease of use without sacrificing the performance and durability for which Miele is so well know. (The complete vacuum with hose, wand and attachments weighs only 14 lbs.) |
| The Miele Sealed System™ | Ensures that all air flow through the system reaches the high filtration exhaust filter. It also improves the cleaning performance since all air flow passes through the hose and attachments as well. |
| Multi-Layer Filtration System | Each layer captures more particles, providing longer life and better performance of the exhaust filter. |
| Super Air Clean Filter | As Miele's standard exhaust filter, it removes nearly 94% of particles as small as 0.3 µm, providing very clean exhausted air for those who don't have special filtration needs. For even greater filtration, use the optional Active Certified HEPA filter. |
| Optional Active Certified HEPA Exhaust Filter | Retains 99.97% of pollens, household dust, dust mites and other allergens as small as 0.3 µm in size. In addition to HEPA filtration, a thin layer of activated charcoal absorbs organic gases and unpleasant odors while you clean. |
| Optional Active Air Clean Exhaust Filter | Features a thick layer of Activated Charcoal sandwiched between two Super Air Clean filters for outstanding odor trapping abilities. It's great for cat & dog owners. |
| 1200 Watt Miele Vortex Suction Motor | Delivers high air flow rates of over 150 CFM for very effective cleaning. Extra long life expectancy of 1200 hours exceeds most industrial motors. |
| Electronic Speed Control | The completely variable dial with six click stops (six stage) enables you to select the proper amount of power for cleaning anything from draperies to medium height carpets. |
| Three 360° Swivel Wheels | Tracks nicely behind you as you pull it by the hose. It also can be easily pushed it out of your path when working near the machine. |
| Automatic Cord Rewind | Conveniently rewind the cord for storage by pushing the foot pedal on the top of the cleaner. |
| Includes Turbobrush | By including the STB 205-3 Turbobrush, this cleaner is designed to deep clean low to medium nap carpeted floors. For those desiring a similar vacuum with motorized powerbrush, consider the Miele S4210 Capella power team. |
| One Year Limited Warranty by Miele | Provides a year of peace of mind, knowing that you will not have the expense of a repair which is covered by this warranty. |
| Seven Year Limited Suction Motor Warranty by Miele | Provides six additional years of peace of mind, knowing that you will not have the expense of a suction motor repair which is covered by this warranty. This also reflects their confidence in this machine's excellent quality. |
---
Categories
Canisters & Power Teams

Upright Vacuums

Stick Vacuums

Central Vacuums

Bags

Filters

Belts

Light Bulbs

Hoses

Wands

Power Nozzles

Turbine Nozzles

Floor Nozzles

Dusting Brushes

Upholstery Nozzles

Crevice Tools

Special Attachments

Parts & Misc. Supplies
Types
Brands
Close panel