RX 380e HEPA Eco Force 15" Commercial Vacuum Cleaner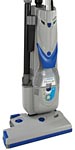 Optional Accessories and Supplies for the
RX 380e HEPA Eco Force 15" Commercial Vacuum Cleaner
Optional Accessories & Attachments
9' Long 35mm Extension Hose

Extend the reach of your vacuum cleaner with 35mm size attachments by 9' with this extension hose. Its great for stairs and reaching into areas where your vacuum can't go. The one end mates with your existing hose and the other end mates with 35mm attachments.

For a hose to use with a Miele vacuum, see the 9' Long 35mm Extension Hose with Straight Attachment End since the Miele attachments do not get tight on this hose handle.
Code: 9FT-35MM-EXT
Lindhaus Extension Wand #030850310

This black wand is made by Lindhaus to extend the reach of your attachments for those extra high ceilings, etc. This 19" wand is constructed of high impact plastics, making it very light weight and durable. While the vacuum above comes with a full length telescopic wand, you may wish to order this wand for even longer reaches.
Code: 030850310
Backpack Strap for Upright #086750000
Most Lindhaus uprights can also be used as a backpack by removing the handle and carpet nozzle and attaching this Backpack strap. In has straps with pads that
pass over your shoulders and attach to the top and bottom of the vacuum where the handle and power nozzle attach. This configuration provides safer cleaning of stairs, etc. with the upright shown above.
Code: 086750000
Genuine Lindhaus Supplies
Lindhaus PH4 Paper Bags #030610019

Genuine Lindhaus Type PH4 Paper Bags to keep your Lindhaus upright performing well. This box contains ten high filtration paper bags plus two Filtrete exhaust filters. Include additional paper bags when ordering the Lindhaus upright shown above and receive free shipping on them as well.
Quantity Savings
Quantity
Price ea.
Save

$9.90

- Buy 3 for

$79.95

3+ Items
$

26.65
Code: 030610019
Upright S-Class HEPA Filter #030640000

This optional Certified S-Class HEPA Exhaust Filter can be used instead of the standard Filtrete exhaust filter for even cleaner air. This filter is highly recommended for those who have dust related allergies or asthma. It should be replaced every 12 months with typical household use.
Code: 030640000
Activated Charcoal Filter #030650000

This optional exhaust filter combines two Filtrete filters with a thick layer of Activated Charcoal to provide heavy duty trapping of unpleasant odors. This is recommended of pet owners who desire better odor control.
Code: 030650000
Filtrete Filter - 5.5" x 4.5" #011770000

This electrostatic Filtrete Micro Filter traps very small particles, making the exhaust air even cleaner than the normal air in the room. Filtrete is designed for those desiring outstanding filtration but who do not have dust related sensitivities which require the level of filtration that meets the stringent HEPA specification.

When you purchase Lindhaus paper bags types HF6, PH4 or DH3, two of these filters are included in the box. Purchase additional Filtrete filters if you wish to change them more frequently.
Quantity Savings
Quantity
Price ea.
Save

$2.70

- Buy 6 for

$27.00

6-11 Items
$

4.50

Save

$12.00

- Buy 12 for

$47.40

12+ Items
$

3.95
Code: 011770000
Lindhaus Cog Type Belt #010400300

This genuine Lindhaus Belt is for all their 2-motor uprights and power nozzles. The cog design provides positive power transfer from the motor to the brush roll. It can not stretch and slip. This reinforced cog type belt is packaged and sold individually. They typically will last five or more years.
Quantity Savings
Quantity
Price ea.
Save

$2.94

- Buy 2 for

$26.96

2+ Items
$

13.48
Code: 010400300
https://www.ristenbatt.com/xcart/Lindhaus-HEPA-Commercial-Vacuum-Cleaner.html