Hoover U6634-900 Bagless Self Propelled WindTunnel Upright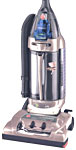 Optional Accessories and Supplies for the
Hoover U6634-900 Bagless Self Propelled WindTunnel Upright
Attachments for Special Tasks
Deluxe Hoover WindTunnel Hose #43434031

This is the Deluxe Wire-Reinforced Stretch Hose used on the better Hoover WindTunnel uprights which use paper bags. The machine end is 1 1/2" in diameter with two locking pins which hold it in the vacuum. The attachment end is extra large to fit over the Hoover WindTunnel wands and attachments. This is a standard length hose, not an extra long.

Extend the reach of your Hoover Self Propelled Bagless WindTunnel upright with this standard length wire-reinforced stretch hose. Its great for stairs and reaching into areas where you vacuum can't go. By purchasing this hose with the Hoover WindTunnel shown above, you can extend your total attachment reach to 20'. (Two hoses combined stretched to about 15' plus two wands and the crevice tool)
Archived Retired Product - Not Available for Sale
Code: 43434031
Deluxe 12" European Style Hair Floor Brush - 1 1/4" Size

This Deluxe Floor Brush is 12" wide and 2.5" deep, having natural hair brush strips with long bristles along the front and back edges of the nozzle. Wheels on the sides between the brush strips carry the weight and downward pressure on the nozzle, allowing the bristles to glide on the floor without being flattened. Notches in the front brush strip allow dirt to easily enter the nozzle. This very deluxe floor brush will fit your Hoover WindTunnel wands perfectly even though it is not made by Hoover.
Code: 230
Hoover 9" Floor Brush - 43414142

This genuine Hoover floor brush is 9" wide and 2" deep, having a nylon brush strip through the center of the nozzle and at the ends. Combine this floor brush with the extra long hose to easily and effectively clean bare floors with this upright.
Archived Retired Product - Not Available for Sale
Code: 43414142
Hoover Black 1 1/4" Wand - 38634078

Extend the reach of your Hoover attachments for those extra high ceilings, etc. This 16.5" long genuine Hoover wand is constructed of high impact ABS Plastics, making it very light weight and durable. While the Hoover upright shown above is packaged with two wands, you can purchase additional ones for an even longer reach.
Code: 38634078
Universal Mini Attachments #54002

This 8-Pc. Mini Attachment Set is great for reaching into very small areas of electronic equipment, car interiors, computers, etc. The small 30" long 1/2" hose is equipped with an adapter which attaches to your existing hose. Two 3/8" mini wands mate with a very small crevice tool and two sizes of dusting brushes. This attachment set will fit on your Hoover WindTunnel wands perfectly even though it is not made by Hoover.
Code: 54002
Genuine Hoover Supplies
Bagless Upright HEPA Filter Cartridge Package #40140201

This genuine Hoover HEPA Cartridge Filter fits inside the Twin Chamber® Dirt Container on all Hoover Bagless uprights. It consists of a cylinder shaped cartridge with fanfold filter media between the black vinyl ends. This long life filter has a coating similar to teflon which makes it very easy to clean. It can even be washed by holding it under running water. Hoover recommends replacing this filter every three to six months. This filter package #40140201 contains one "Type 201" filter #42611049. It was previously known as filter #43611042.

This fanfold design provides a large filter media area for reduced resistance to air flow while producing a very high level of filtration which meets the stringent HEPA specification.
Code: 40140201 &nbsp &nbsp Mfg. Code: 40140201
Long WindTunnel Exhaust Filters #40110006
This package #40110006 contains two Long Fiber Upright Exhaust Filters #38766021. Each filter fits inside a door on the side of a Bagless or Self Propelled WindTunnel upright. Each filter measures 10 7/16" x 3 5/16" x 1/2".
Code: 40110006 &nbsp &nbsp Mfg. Code: 40110006
Hoover WindTunnel Upright Belt #38528033

Genuine Hoover Belt to keep your WindTunnel upright performing well. This flat stretch type belt should be changed at least once per year to keep your uprights brush roll spinning well.
Code: 38528033 &nbsp &nbsp Mfg. Code: 38528033
https://www.ristenbatt.com/xcart/Hoover-U6634-900-Bagless-Self-Propelled-WindTunnel-Upright.html