Hoover S3765-040 Bagless WindTunnel Canister Introduction
The Hoover Company has been a leading innovator in the vacuum cleaner industry for many years. It is also one of the three oldest vacuum cleaner companies, having begun in 1908. Many years ago Hoover developed the first clean-air upright with a dial on its rear bag housing to switch between carpet cleaning and attachment use with a detachable hose. It was appropriately named the "Dial-a-matic". Recent years have seen the introduction of bagless vacuums including Hoover's Twin Chamberô Bagless System on some uprights. More recently they created another new product, the Hoover Floor Mate, for vacuuming and washing non-carpeted floors. This Bagless Hoover canister is yet another unique vacuum which Hoover has designed. They aren't the first company to produce bagless canisters but this new design with a three chamber dirt container should prove to be a winner.
With the advent of Hoover's new WindTunnel power teams, they are manufacturing bagless power teams which clean very well and provide very low dust emissions while being quite user friendly with their many features. We view this as one of the best bagless power team designs available today. By combining this new bagless allergen filtration system with their unique WindTunnel power nozzle design, Hoover has created an economical and effective cleaning machine. This bagless power team sits proudly at the very top of the Bagless Hoover Power Team series.
Three Chamber Bagless System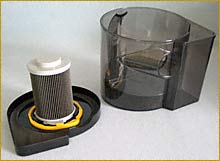 This Hoover incorporates a fan-fold filter in a unique three chamber bagless system to produce an efficient and economical Allergen Filtration System, eliminating the need to purchase expensive high filtration paper bags. To reduce costs even more, Hoover has designed these filters to be washable, reducing the frequency of replacement.
The larger debris spins out to the perimeter of the cyclonic chamber, entering the collection chamber along the side. Most finer dirt works down to the bottom of the cyclonic chamber where it enters the collection chamber below the cyclonic chamber. These two special collection chambers hold most of the dirt, reducing the chances of it interfering with the cyclonic action in the main chamber. To provide good air flow, Hoover has incorporated a large area fan-fold Primary Filter centered in the cyclonic chamber clean the air even more before it travels through the suction producing fan in the motor.
After the filtered air travels through the motor it exits through the HEPA Exhaust Filter where it is cleaned to the stringent HEPA specification. This special filter retains 99.97% of pollens, household dust, dust mites and other allergens as small as 0.3 µm (micrometers - formerly microns) in size. This is a great help for those who suffer from dust related allergies as well as for asthma sufferers. The vacuum is completely sealed from intake to the exhaust filter, ensuring that all air flow must pass through all filters to be cleaned by them.
The fan-fold design of both filters creates large filter media areas for reduced resistance to the air flow. This is important since it is the air flow, aided by the brushing action, which does the cleaning. The less resistance in a system, the better the air flow will be for the same suction produced by the motor.
Powerful 12.0 Amp. System
Strong suction and rigorous carpet agitation produced by this 12.0 amp. power team combine to deep-clean carpet as well as all other surfaces. This is the maximum amperage rating permitted for a vacuum cleaner to receive UL Approval. If you see a rating higher than twelve, it probably is an Efficiency Rating or Hoover's Cleaning Performance System rating. Featuring lifetime lubricated bearings, well balanced motor parts and the inherent motor protection of the canister design, this vacuum's motor should perform dependably for many years. Should it ever fail, the complete suction motor will need to be replaced since it is non-repairable.
Effective Brush Roll and WindTunnel Housing
An important innovation is the unique patented WindTunnel technology applied to the brush roll housing. Special air channels built into the roll housing provide better air distribution across the full width of the power nozzle. This also reduces the scatter effect by brushing the grit, sand, etc. into these channels where it is removed by the air flow. This deluxe power nozzle also has red vinyl edge groomers on both sides to help clean right to the baseboard. The extra wide nozzle on the Bagless Hoover WindTunnel Power Team gives a cleaning width of 15".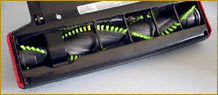 The brush roll is very effective with its two rows of fluorescent green bristles mounted on an auger shaped brush roll which helps move the dirt toward the nozzle's inlet. The auger shape also enhances the agitation by providing a beating effect combined with the brushing effect. A unique smoked see-through brush roll housing enables you to see the bright 2-row brush roll in action.
Deluxe Hose with Electronic Fingertip Controls
With this Hoover bagless vacuum, you have complete control right at your finger tips with the electronic remote controls. The hose mounted remote power switch allows you to easily turn the unit on and off with you finger tips. Adjust the motor speed between low, medium and high with a tap of your finger to select the power level you need to match any type of cleaning task. A red power display on top of the vacuum indicates which power level you have selected. You can even use the power nozzle to clean small areas of bare floors by stopping the power nozzle motor and brush roll with a tap on its own remote power switch.
Beyond having fingertip power controls, the hose has a number of other advanced features. Since air flow is so important and air turbulence with the hose can slow it, Hoover made the inside of the hose quite large - a whopping 1.6" in diameter. This should also reduce the risk of clogging considerably but, should an object ever get lodged in the hose, the transparent design enables you to easily spot its location. For convenience, this deluxe hose is six feet long.
Deluxe Steel Telescopic Wand
Making this Hoover Power Team even more user friendly is their new chromed steel telescopic wand. It's coiled cord is attached directly to it, providing the electric needed to run the power nozzle motor. Both ends of the cord are held securely in place, enabling you to easily connect or remove the hose at the top as well as the power nozzle or other attachment at the bottom.
This "quick disconnect" feature makes it a snap to switch between floor attachments or to remove the hose for use with the smaller attachments. Steel buttons lock the wand onto the hose and the power nozzle onto the wand. These are easily released by pressing a release pad at the top or stepping on the quick release pedal on the power nozzle connector. This special wand even telescopes so you can easily adjust it to match your individual stature. For convenient storage, it collapses to about half its total height.
Turbine Powered Hand Tool

Working and cleaning like a miniature power team with its 2-row revolving brush roll, the Turbine Powered Hand Tool is ideal for deep cleaning upholstery, carpeted stairs, beds, etc. Experience cleaning with the strong suction from your Bagless Hoover vacuum combined with the brushing action of this turbine driven nozzle. It's much more effective than using a small hand held vacuum cleaner. You too will be excited with the convenience and performance this Turbine Powered Hand Tool has to offer. With its 3 1/2" wide revolving brush roll, using this tool is like having a miniature power team in you hand.
Product Availability
This Hoover Bagless WindTunnel Canister model S3765 is manufactured by The Hoover Company in Korea and marketed through their network of retail stores and vacuum cleaner specialty stores like Ristenbatt Vacuum Cleaner Service. We also promote and sell additional models of Hoover Canisters & Power Teams, various Hoover Accessories & Attachments and Genuine Hoover Dustbags, Filters & Supplies.
Please feel free to call toll free at 800-413-2778 or 717-665-5126 for more details and information on this and additional models. All of our salespeople are also skilled technicians who are very knowledgeable about vacuum cleaners, both inside and out. They will be happy to talk with you regarding your various vacuum cleaner needs, preferences and desires. We are a vacuum cleaner specialty store providing outstanding customer service to all who purchase from us.
---
| | |
| --- | --- |
| Key Features | Major Benefits |
| Three Chamber Bagless System | Efficient and economical bagless system saves on the cost of paper bags. Multiple collection chambers reduce the chances of dirt interfering with the cyclonic action in the main chamber. |
| HEPA Exhaust Filter in a Sealed System | Hoover is paying close attention to creating air tight seals so all the air is exhausted through the HEPA filter. Ensures that the exhausted air is actually filtered to the HEPA specification. |
| Powerful 12.0 Amp. Motor | This motor produces plenty of power for any type of cleaning job. This is the maximum permitted amperage for UL Approval of a vacuum cleaner. |
| Finger Tip Power Controls | Easily control the suction and switch the main machine and power nozzle on and off right from the hose end. You can easily go right from cleaning carpet to non-carpeted floors with the power nozzle by stopping the motorized brush roll. |
| Steel Telescopic Wand | Adjust the wand length to match you stature or collapse it for storage. The Quick Disconnect feature enables fast and easy switching between attachments. |
| Automatic Cord Rewind | Conveniently rewind the 22' cord for storage by pushing the foot pedal on the top of the vacuum. |
| Ultra Quiet Operation | Adds to the enjoyment of using this well designed power team. Easily talk above the sound of the vacuum cleaner. |
| Deluxe 15" Wide Power Nozzle | The extra cleaning width enables you to finish in less time. Red Stationary Edge Groomers Aid Edge Cleaning. |
| WindTunnel Nozzle Housing | Reduces the scatter effect by brushing grit, sand, etc. into special air passages in the brush roll housing where it is removed by the air flow. This design also improves the distribution of the air flow across the full nozzle width. |
| Powered Hand Tool | The Turbine Powered Hand Tool with revolving brush roll. It works like a miniature power team with its revolving brush roll for deeper cleaning of carpeted stairs, upholstered furniture, beds, etc. |
---
Categories
Canisters & Power Teams

Upright Vacuums

Stick Vacuums

Central Vacuums

Bags

Filters

Belts

Light Bulbs

Hoses

Wands

Power Nozzles

Turbine Nozzles

Floor Nozzles

Dusting Brushes

Upholstery Nozzles

Crevice Tools

Special Attachments

Parts & Misc. Supplies
Types
Brands
Close panel