Hayden 7000 SuperVac Introduction
The Hayden 7000 SuperVac is the world's most advanced central vacuum. For many years Hayden Manufacturing Company LTD has been the leading manufacturer of central vacuum system wall inlets, pipe elbows, etc., supplying over ninety-five percent of all that are used in the industry. Their deluxe wall inlet, the Hayden SuperValve, is a favorite among central vacuum installers and customers due to its patented advanced features. More recently this outstanding company was acquired by Canplas Industries Ltd.
Powerful 2-Stage Motor
Providing plenty of power for cleaning up to 6000 square foot homes is the advanced Hayden 7000 SuperVac Central Vacuum. Powered by a 2-stage Lamb (Amatek) bypass cooled motor, the Hayden 7000 develops 550 air watts of power. Other rating methods are the sealed suction rated at 128" of water lift and airflow rated at 114 C.F.M. Where more power is needed, the Hayden 9000 is also available.
High Efficiency Two-Stage Filtration System

The Hayden 7000 SuperVac is designed with a two-stage filtering system for enhanced filtering and increased air flow. The first stage is a specially designed cyclonic separation chamber, complete with a dust deflector shield and cyclonic separator cone. The diminishing diameter of the separator cone increases the velocity of the air, increasing the centrifugal forces that separate the dust and debris from the air flow.
Any residual dust which makes it through the cyclonic separation chamber then encounters the high efficiency cartridge filter. This cartridge incorporates an extremely large filtering surface by using a corrugated filter media. As with any filtering system, the cleaner a filter is kept and the larger the filter area, the less the resistance to air flow will be. This two-stage filtering system comprising of the cyclonic separation chamber and the corrugated filter cartridge ensures that the best possible performance will be achieved even as the unit fills with dirt.
Dust and Allergens are Removed Completely from Your Home
By venting the exhaust air outside your home, no allergens and carcinogens are recirculated back into your home. That's 100% of ALL particles, going beyond even the HEPA and ULPA specifications. Therefore many allergists recommend central vacuum systems for their patients. While using an external exhaust vent is recommended, the exhausted air is so clean that it is not necessary to do so if that option isn't available.
Durable SuperVac Construction
Constructed primarily from high impact, high temperature flame retardant ABS and polycarbonate plastics, the case will not dent or scratch and will last the life your home. Being rust and corrosion proof, it is excellent for areas where there is excessive humidity. It's ideal for installation in your basement or garage.
Outstanding SuperVac Limited Warranty
Again Hayden leads the central vacuum industry with their outstanding 7-year plus 3-year at 50% Limited Warranty on the SuperVac Central Vacuum. The optional SuperPack Attachment Kit which include a 30' hose, power nozzle, and other attachments has a two year limited warranty.
Wall Inlets, Elbows, Piping, Etc.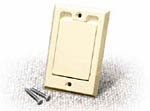 Installing a Hayden Central Vacuum System is within the abilities of most do-it-yourselfers. We have their wall inlets, elbows, etc. available individually or in 3-valve kits. The kits contain the wall inlet valves and sufficient elbows, etc. to do a typical installation although they do not include the 2" thin wall PVC piping. You can see various wall inlets, elbows, etc. in our online store or see a complete list of items on the Hayden Products in Our Online Store page.
Product Availability
The outstanding Hayden 7000 SuperVac Central Vacuums and SuperPack Attachment Kits are available from Ristenbatt Vacuum Cleaner Service. You can also download a Product Description Sheet by Hayden. We also promote and sell additional models of Hayden Central Vacuums, various Generic Central Accessories & Attachments and Genuine Generic Central Dustbags, Filters & Supplies.
Please feel free to call toll free at 800-413-2778 or 717-665-5126 for more details and information on this and additional models. All of our salespeople are also skilled technicians who are very knowledgeable about vacuum cleaners, both inside and out. They will be happy to talk with you regarding your various vacuum cleaner needs, preferences and desires. We are a vacuum cleaner specialty store providing outstanding customer service to all who purchase from us.
---
| | |
| --- | --- |
| Key Features | Major Benefits |
| Powerful 2-Stage Motor | Provides plenty of power for cleaning up to a 6000 square foot home. |
| Two-Stage Filtration System | Improves air flow through the system even as the unit fills with dirt. By keeping the motor fans as clean as possible, motor life is extended and vibration noise is reduced. Unit does not need to be vented outside. |
| Exhausts to the Outside of Your Home | Prevents 100% of ALL dust and allergens from recirculating back into your home. That's better than the HEPA and ULPA specifications. No more dusty or musty smells from your vacuum cleaner as you clean your home. |
| Durable Case Construction | Being rust and corrosion proof, the main case will last the life of your home. It's ideal for areas with excessive humidity. |
| 7 Plus 3 Limited Warranty on the Main Central Vacuum by Hayden | Provides seven years parts and labor warranty plus three more years at 50% cost. |
---
Categories
Canisters & Power Teams

Upright Vacuums

Stick Vacuums

Central Vacuums

Bags

Filters

Belts

Light Bulbs

Hoses

Wands

Power Nozzles

Turbine Nozzles

Floor Nozzles

Dusting Brushes

Upholstery Nozzles

Crevice Tools

Special Attachments

Parts & Misc. Supplies
Types
Brands
Close panel