Eureka 6996A "True HEPA" Oxygen Power Team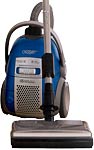 Optional Accessories and Supplies for the
Eureka 6996A "True HEPA" Oxygen Power Team
Universal Mini Attachments #54002

This 8-Pc. Mini Attachment Set is great for reaching into very small areas of electronic equipment, car interiors, computers, etc. The small 30" long 1/2" hose is equipped with an adapter which attaches to your existing hose. Two 3/8" mini wands mate with a very small crevice tool and two sizes of dusting brushes.
Code: 54002
Eureka Extension Wand #14070-3

Extend the reach of your Eureka or Sanitaire attachments for those extra high ceilings, etc. This 20" wand is constructed of high impact ABS Plastics, making it very light weight and durable. The vacuum cleaner above comes with two locking steel wands. Purchase these lightweight extension wands if additional reach is desired.
Code: 14070-3
Eureka "Style OX" Bags #61230

Genuine Eureka "Style OX" Paper Bags to keep your Eureka canister vacuum cleaner performing well. Contains three high filtration paper bags. Include additional paper bags when ordering the vacuum shown above and receive free shipping in the contiguous USA as well.
Quantity Savings
Quantity
Price ea.
Save

$3.00

- Buy 3 for

$26.85

3+ Items
$

8.95
Code: 61230 &nbsp &nbsp Mfg. Code: 61230
Eureka Washable "True HEPA" - HF1 in Blue Frame

This Genuine Eureka "Style HF1" Washable Gore CleanStream "True HEPA" Fan-fold Exhaust Filter is designed to retain 99.97% of pollens, household dust, dust mite droppings and other allergens as small as 0.3 ?m in size. This filter is highly recommended for those who have dust related allergies or asthma. One of these filters is already installed in the vacuum shown above.
Archived Retired Product - Not Available for Sale
Code: 61053 &nbsp &nbsp Mfg. Code: 61053
52201B - Eureka Power Nozzle Belts

This package contains 2 genuine Eureka flat power nozzle belts. One belt is used at a time although it should be changed at least once per year to keep the nozzle performing well. Include additional belts when ordering the power team shown above and receive free shipping in the contiguous USA as well.
Archived Retired Product - Not Available for Sale
Code: 52201B &nbsp &nbsp Mfg. Code: 52201B
https://www.ristenbatt.com/xcart/Eureka-6996A-True-HEPA-Oxygen-Power-Team-Mobile-Page.html